Coshocton nearly perfect in shutting out Garaway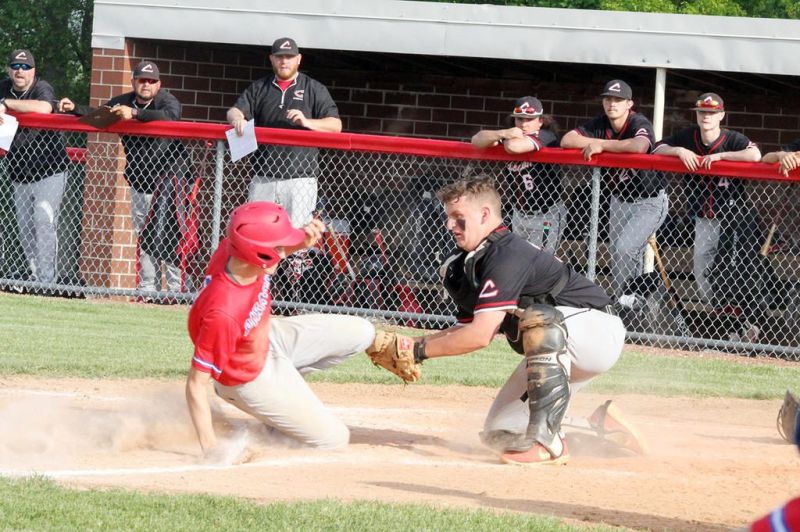 Baseball can be a cruel game, and the Garaway Pirates learned that the hard way when they faced Coshocton in the East Div. II sectional championship game in Sugarcreek on Thursday, May 19.
The #2 seed Pirates hosted the #7 seed Redskins in a pitcher's duel, and in a game Garaway played well enough to win, Coshocton seemed to have every answer at the right time to produce a 3-0 win over the Pirates.
"We didn't play bad at all," Garaway head coach Justin Elmore said. "Our pitching was easily good enough to get us a win, but give their kid some credit. He pitched a great ballgame, and their defense was really tough tonight."
Starting pitchers Coby Moore of Coshocton and Brady Roden of Garaway went toe to toe through the first five innings. Garaway threatened in the opening inning on a Brady Roden single and a walk to Cameron Coblentz, but Moore worked out of trouble by catching Javin Beachy looking on a third strike.
Garaway threatened again in the second inning when Payton Miller and Gabe Amicone knocked two-out singles, but again Moore escaped, inducing a pop out to short off the bat of Alexander Roden.
The Redskins finally broke the scoreless tie in the third when Colton Conkle singled leading off the frame, advanced to second on a sacrifice bunt, advanced on a wild pitch and rode home on a sacrifice fly from Zach Jennings.
Both pitchers were strong through the fourth, where Moore continued to get great defense, mainly from center fielder Kobe Rust, who was tracking down all kinds of batted balls that looked destined to hit green, only to see the speedy outfielder track them down.
"Kobe Rust is one of the best in the Eastern district, bar none," Coshocton head coach Nathan Prati said. "He covers gap to gap and can flat-out go get it."
The fifth inning proved to be the pivotal inning in the game. The Redskins scored twice with two outs and the bases empty. Gage Wright doubled, and Rust promptly drove him home with a single to left. Jennings then stroked a double to center to plate Rust for a 3-0 lead.
In came the Pirates, who looked bent on making something happen. Alex Roden led off by getting hit by Moore, and Brady Roden walked. Alex Roden stole third, putting runners on the corner with nobody out. Brady Roden then attempted to steal second, and on the throw down, Alex Roden broke for home. Wesney cut the ball off between the mound and second and fired a pea to catcher Blake Alexander, who tagged Alex Roden out at home. Moore retired the next two hitters to escape undamaged.
Moore doubled with one out in the sixth, bringing Payton Keller in to pitch for the Pirates, and he quickly retired the Redskins on a strikeout and a pop out.
Andon Keller singled to start the sixth for the Pirates, signaling the end of Moore's day on the mound.
"Coby was fantastic on the mound tonight and had everything working," Prati said of Moore. "He got in some trouble but worked out of it, which he has done all year long."
Berry came on in relief and walked Zach Misko, but on one wild play, the Garaway threat was squashed.
Preston Miller laid down a bunt toward first base, but hard-charging Wes Prince grabbed it and fired a strike to third to force Keller at third. Moore, now at third, fired across the diamond but couldn't' get Miller, but pinch-runner Blayne Schlabach was gunned down at third trying to advance. For the second straight inning, sketchy base running had doomed the Pirates.
"We wanted to be aggressive on the bases tonight, but we weren't intelligent with our aggressiveness," Elmore said. "We ran ourselves into some outs that hurt, but I'm not going to get on Blayne for that. It was just a kid playing hard trying to make something happen."
That play was pivotal because Gabe Amicone ripped a sharp single to left and Alex Roden walked, loading the bases before Berry caught Brady Roden looking to end the inning.
The final inning passed quickly, and the Redskins had secured the upset.
As for his team's performance, Prati said the Redskins did everything the staff asked of them.
"We did enough to score a few runs on offense, but our pitching and our defense played very well," Prati said. "That's about the best game we've played defensively all season, and our leaders are stepping up and playing great baseball when we need it most."
Elmore said his crew had good at-bats and hit the ball hard, but it seemed liked every time they did, the Redskins made plays. He pinpointed the double play in the final inning that saw Coblentz scorch the hardest-hit ball of the night back through the box on a base hit destined for center, only to see Berry somehow get a glove on it and deflect it to second baseman Conkle, who flipped to Wesney, who relayed to first to complete the double play.
That play succinctly summed up the game for both teams.
"They are playing well right now, and we were too coming in, and someone was going to win and someone was going to go home. Baseball can be a rough game sometimes mentally, and this was one of those games for us where we just didn't get the key hits when we needed them. We had plenty of opportunities tonight and didn't capitalize, and that's what cost us," Elmore said.
Jennings was the lone Redskin to collect two hits and drove home two huge insurance runs while Amicone and Preston Miller each had two hits for the Pirates. Moore went shutout for five innings, scattering six hits and striking out five, while Berry fired the final two innings to pick up the save. Tough-luck loser Brady Roden also went five innings, allowing three runs on five hits while striking out six. Keller pitched brilliantly in his two innings of relief for the Pirates, who bow out at 16-6, while the Redskins improved to 13-10.