Strong numbers, high expectations for Knight wrestlers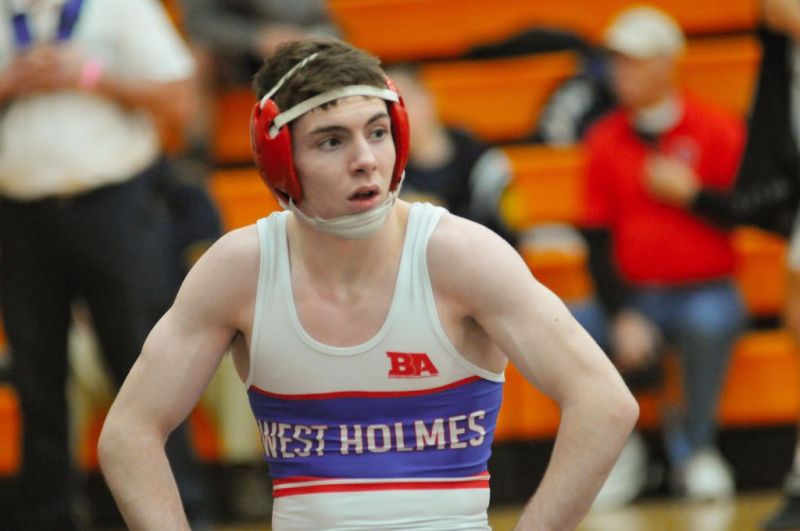 Coming off of one of the school's finest wrestling seasons ever, the West Holmes Knights are more than a little excited about the upcoming year.
West Holmes High School wrestling head coach Scott Vaughn has a large contingent of wrestlers in the wrestling room, one of the largest in recent memory. Nearly 30 high school student-athletes are on Vaughn's roster with plenty of experience throughout the line-up.
"Experience will be a huge factor on our team," Vaughn said as he prepared to kick off the new year. "Last season our team had no seniors, and several kids had to step up with little to no varsity experience. This season we will have a battle-tested team that has had at least a year of varsity experience. They will know what to expect when stepping on the mat."
With 14 returning letter winners, Vaughn expects that group to lead the way.
"We are still missing a heavy weight, and we are still young at some of the upper weights," Vaughn said. "We have a few returning letter winners back, and I will expect them to step up in their roles for the team."
The senior, junior and sophomore classes are represented by seven wrestlers each while eight freshman grapplers complete the roster.
The list of expectations starts with a pair of returning All-Ohioans in Cael Woods and Tyler Masters. Woods is seeking his fourth trip to state, and Masters will try to earn his third trip to Columbus.
The experience doesn't stop there. Fellow seniors Cruz Alexander and Walker Uhl were both on the verge of qualifying for state last season. Kendall Weber, Josh Sayers and Hunter Bowling round out a talented and experienced senior group.
The core of juniors also is strong with Skylar Anderson, Jack Welsh, Colt Cox, Gavin Greer, Micah Humphrey, Corbin Miller and Sean Over. Sophomore Tucker Kaufman was a regional qualifier last season and leads a group that includes sophomores Hunter Eberhard, a transfer from New York, as well as Dillon Miller, Dylan Strouse, Noah Tish, Conner Varnes and Brady Smith.
A freshman group consisting of Cylie Touch, Collin Gardner, Caleb Larimore, Austin Myers, Blake Norman, Dakota Patterson, Mason Taylor and Paige Young will all try to make their mark as young Knights entering the fray.
The West Holmes Middle School crew also brings plenty of potential with it. The team has 18 grapplers in the room, an even split of nine each from the eighth-grade and seventh-grade classes.
Head coach Jeremy Dombrady welcomes back several talented eighth-graders and has a promising seventh-grade class.
A large and enthusiastic group of youngsters will hone their skills as members of the Attack Team.
Well over 40 elementary wrestlers make up this season's Holmes Area Wrestling Club Attack Team, and volunteer head coach Jarret Mathie is thrilled with the large turnout.
"It should be an exciting season. We have 44 on our roster," Mathie said. "The progress they have made in the first weeks of practice has been tremendous. We are young. Only 12 return from last year's team, but our newcomers seem to be picking it up and working hard. That's all we can ask for. I'm optimistic with our numbers we can fill the majority of the 20 weight classes for the first time in a long while. I'm excited to get the season underway."