Wooster athletes hope district calls an audible, lets them play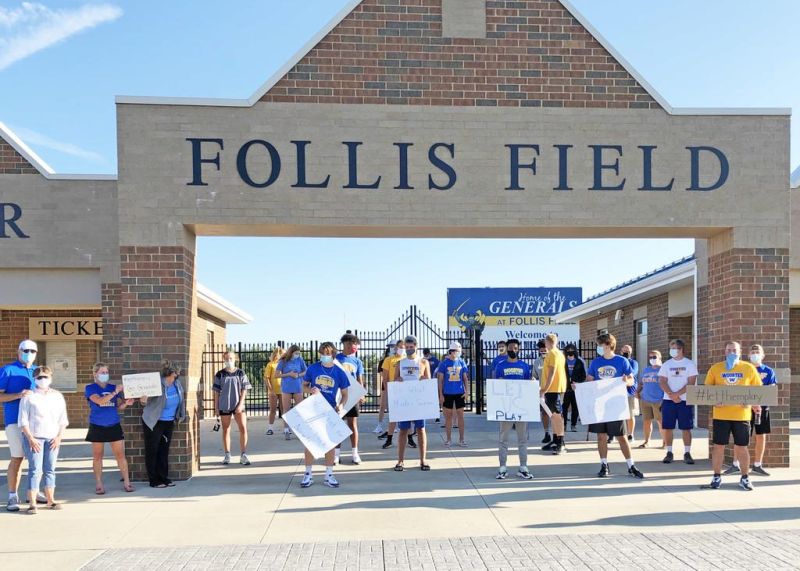 Editor's note: Late Sunday night, the Wooster City School District's athletic department and administration met and decided to reverse its earlier decision to move some fall sports back to an Oct. 1 start date and will now start as originally scheduled. This affects the sports of boys and girls soccer, football and cheer, as well as marching band activities.
Wooster senior quarterback Owen Roach stepped in front of a group of about 20 teammates and made the biggest audible call of his career during a protest held outside of a locked Follis Field on the morning of Aug. 8.
Roach was trying to change the play call of Wooster City School District administrators, who have said "no" to playing games until Oct. 1 for high school and middle school football, boys and girls soccer, cheerleaders and the marching band due to COVID-19 concerns.
"We're here because we want to get our season undelayed," said Roach, who desperately wants a chance to lead a highly experienced team that's coming off a 7-4 season, Ohio Cardinal Conference outright title and playoff trip. "We think we should put (the decision to play, or not play) in the hands of the state. Just like everyone else around us — the entire Wayne County and OCC.
"Why wouldn't we be practicing right now?" Roach told the crowd assembled at the protest. "What happens when they say in two weeks, 'You guys can play. We don't have to do mandatory testing,' and we're not ready to play a game? We won't be able to schedule a game because all these other teams are going to schedule around us. They can't sit around and wait for us. We have to do something right now because there's not a lot of time left. There's only 2 1/2 weeks left until the season starts and we need to make sure our games are scheduled."
The hastily arranged protest was organized the night before after the OHSAA announced plans for a six-game regular season starting the week of Aug. 24, followed by all teams making the playoffs.
The Generals would get just one regular-season game and they need to have their season reinstated immediately, otherwise opponents will re-make schedules without them. A full community protest was planned for Aug. 10 at 7 p.m. outside the board of education's downtown office.
Roach urged school leaders to reinstate the season before other schools drop the Generals from their schedule. Wooster is the only school in the Ohio Cardinal Conference or Wayne County that has pushed back the start date for games due to COVID-19 concerns.
The Wooster players did everything the right way at the protest. They wore masks, they were respectful and didn't trash talk administrators, but don't mistake their good manners for how passionate they are about having a season.
If Governor Mike DeWine or the Ohio Department of Health shuts down high school sports, the Wooster players said they'll deal with it.
However, they can't live with the possibility of the Friday night lights being turned on throughout the area, but being the only area team sidelined because of a decision by Wooster administrators.
"It sucks," Roach said. "It doesn't make sense to us.
"I understand the thinking at the end of the day, but you're just making a prediction. If every other school around you is playing football, why aren't we doing it?"
Senior twin brothers Jimmy and Joey Lyons have tried to keep their teammates' spirits up and workouts going, but time is of the essence if they're going to have a season. If the delay isn't lifted, Wooster would get just one game (Oct. 1) and then start the playoffs the next week.
Jimmy Lyons wrote a detailed letter to school administrators asking them to reconsider.
"I've actually had some discourse with administrators," Jimmy Lyons said. "Given the OHSAA update, we feel our season is dictated by the Ohio Department of Health and the Governor.
"If it's not safe enough for us to play, those bodies and those people will make the decisions that they need to. Until that time, we should be able to practice and prepare for the season that could start the week of August 24."
In the Aug. 8 edition of the Wooster Weekly News, Wooster superintendent Dr. Michael Tefs addressed the district's rationale behind the decision.
"When the OHSAA didn't suspend the start, we looked at the restart plan we have for our schools, and we wanted athletics to mimic that plan," Tefs said. "We always put student safety first and didn't think resuming athletics five or six days a week and having interscholastic competition was congruent with the rest of the (social distancing) back-to-school plan that we have in place.
"This is probably the hardest decision I've ever been a part of as Wooster's superintendent. I agonized over it, as did the other people in the room that helped to make the decision," he added. "I've read about the other schools and leagues being suspended or canceled, but it's different when you do it. I think about all that our athletes have invested in their sports and my heart goes out to them, but we think we're making the best decision for our students."
Wooster coach Doug Haas was not at the protest, but Jimmy Lyons said that the team let him know about it.

"We understand the tension that he's under right now and this was actually student organized," Lyons said. "We did an outreach to him, but we're not putting him in the middle right now. We respect his decision."
Junior lineman Graham Dixon got the ball rolling to hold the protest and invited people through social media and text messages.
"I saw an article on WKYC.com about the Bay Village football team," Dixon said. "They basically did the same thing we did and it worked. It was a student organized protest, so I was like, 'Why can't we do that?'
"I started putting the word out about 8 p.m. last night, so this is a pretty good turnout for late notice."
Bay Village, Mayfield, Chagrin Falls, Berea-Midpark, Lakewood, Brush, Maple Heights and Shaker Heights are some of the schools in Northeast Ohio that reversed decisions to delay and start contact sports on time, according to Matt Goul of Cleveland.com.
Also on hand for the protest were a couple girls soccer players and about 20 parents.
"Graham texted me and I came out here because I think we're just teenagers and sports will always be a great outlet for teenagers to participate in and get out anger and emotional problems," said junior girls soccer standout Sydney Ebin.
"I've been playing soccer my whole life and the fact that there's so much uncertainty about what's going to happen with the season and I'm not getting a clear answer from anyone, it's just really upsetting."
Players and parents at the protest held signs with messages such as "Let Them Play" and "Do what makes sense."
"We will be left in the dust if we don't get things rolling and let the other schools know that we're playing the week of August 24," said Jeromy Henry, the father of lineman Koty Henry.
Jessica Henderson said her son, Josh Henderson, a standout lineman, has numerous schools who are recruiting him. She really worries what will happen if he doesn't get to play, or only gets a couple of games.
"Most of these colleges are reluctant to give a scholarship if they don't see any senior film," Jessica Henderson said. "What are we supposed to do? You're looking at the start of his financial future.
"The last time I checked, only one person in Wooster Community Hospital was there for COVID," Henderson added. "Don't go by these test scores. DeWine has obviously proven that they're faulty by getting a positive result and then a negative. Can we go by number of deaths, and that's really low around here? I just don't see the proof that they shouldn't play."
Josh Henderson and many teammates have made huge commitments to prepare for the season.
"All third quarter and the offseason, Josh got up at 4 a.m. to be at the gym before school and then practice after school and lift with the team," his mom said. "I don't wake him up at 4. That's him. He's so upset about all this – they've gotta let him play. He's been playing since he was 6."
Chrissy Williams, who is a prosecutor in Knox County, said her son, Jack Williams and teammates have been together working out and practicing since March.
"They've been together as a group all summer, so there's no difference in terms of my fear of them being together," she said. "As a prosecutor, I've seen a big rise in juvenile crime since this has been going on with kids just sitting at home doing nothing. They need their coaches, they need mentors, they need to be accounted for. They need to go to practice and play these games and live their lives."
Aaron Dorksen can be emailed at aarondorksen24@gmail.com. Follow him on Twitter at @AaronDorksen.