Battle Motors honored as Large Manufacturer of the Year winner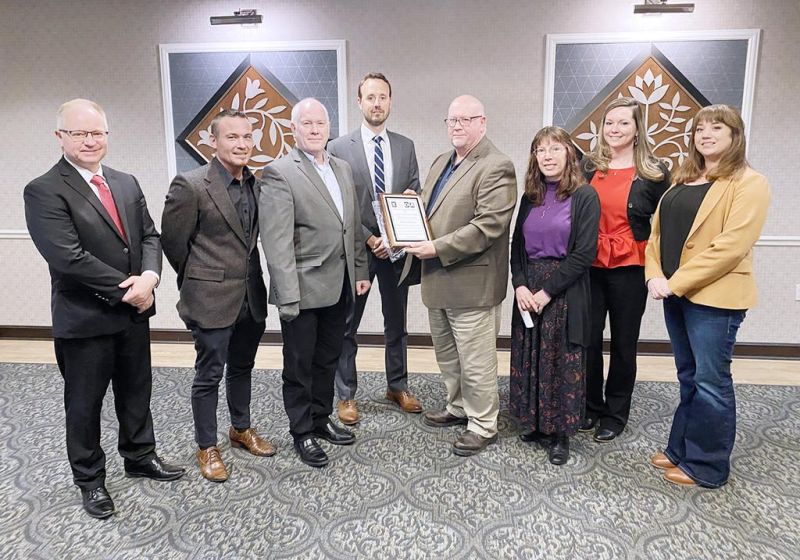 In 1946 Battle Motors started building trucks in New Philadelphia.
Since then the company has been a stalwart in keeping American workers on the road, building a variety of trucks that are utilized nationwide.
On Friday, April 28 at the 33rd annual Eastern Ohio Development Alliance meeting at Carlisle Inn in Walnut Creek, the company was honored as the EODA Excellence Award Large Manufacturer of the Year recipient.
The award presenter and nominator was John Kelly, Tuscarawas County Economic Development Corporation director, who said Battle Motors has been in Tuscarawas County for many decades and its recent growth only adds to the legacy of the company.
"They are a leading manufacturer of electric and commercial vehicles," Kelly said. "They are committed to producing quality, sustainable and durable vehicles for the modern age. Their innovative solutions are designed to help companies reduce their carbon footprint while also increasing efficiency and productivity."
Kelly said the company is driven by a leadership team of engineers dedicated to creating a sustainable future.
The company purchased Crane Carrier Corporation in 2020 and transformed it into a manufacturing company of electric vehicles. Battle Motors has grown from less than 100 employees to 450. Building from 125,000 square feet to 325,000 square feet accompanied that personnel growth, and the company made financial investments to fulfill trucking needs in the nation, with a focus on the electric vehicle market.
At the open house, the Battle Motors founder and CEO said the investment represents the most ambitious chapter in the company's 75-year history — in personnel, the physical plant and technology. He said they have created high-tech jobs at a critical time.
Battle Motors chief engineer Mark Ward accepted the honor and spoke of the company's commitment.
"In the past two years, you would never have imagined the type of growth we've gone through," Ward said. "We were lolling around building one truck a day, trying to act like we were competing against Mac and Peterbuilt. Now we're building seven diesel trucks a day, and we're going to be at eight. We are kicking our battery electric vehicle line off after making changes, and we will be building two Class 8 large trucks per day and will be up to three. It's taken a lot of work by a lot of people."
He said the company is grateful for the support it has received in the community, and they look forward to introducing even more BEV lines in the near future.
Battle Motors began in 1946 as Crane Carrier Company by modifying, reinforcing and remanufacturing surplus military vehicles for the construction and petroleum industries. As the company grew with its markets' requirements, modifying commercial and military chassis became less suitable for its customers' needs, and the company began designing and manufacturing its own custom chassis for the mobile crane market.
While building quality trucks has been a longstanding effort of Battle Motors, the company recently invested in developing a new line of Battle Motors trucks, accelerating the world's transition to sustainable energy through manufacturing the most durable and performance-driven Class 7 and 8 electric trucks.
Kelly said with companies exhibiting the type of work ethic and dedication the people of Battle Motors present every day, the company is headed toward growth, even after soaring to formerly unthought heights the past two years.