Beef O'Brady's up and running in Wooster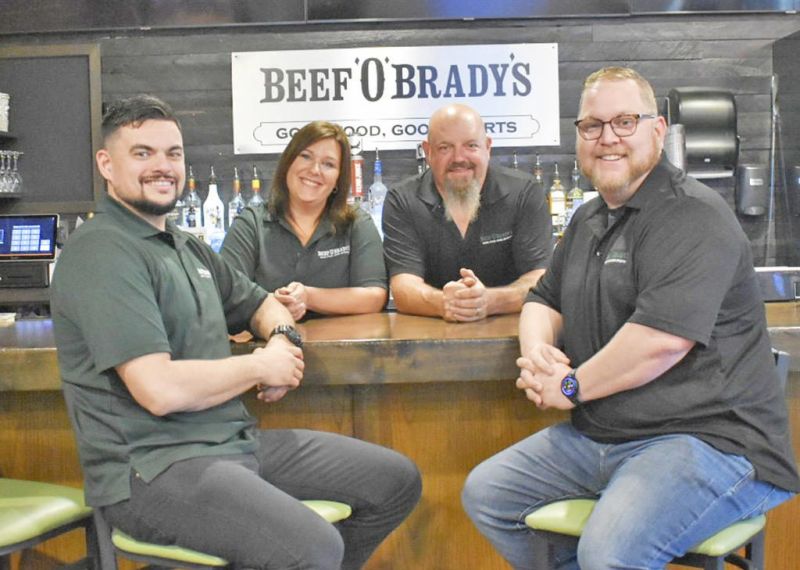 Michelle Holcomb was looking at the service industry a while back and noticed something was missing. Service.
The 20-year restaurant industry veteran aimed to change that, at least as much as she could in her own little corner of the world and on June 27 opened Beef O'Brady's in Wooster, a place Holcomb called a "sports bar where family time meets game time."
Beef O'Brady's is located at 244 S. Market Street in Wooster in the middle of the city's restaurant district.
Holcomb said she and her husband Jason were looking for a franchise opportunity and shopped different brands. They whittle a list down to three and she said it was ultimately what Beef O'Brady's was about on the corporate end that won them over.
Besides the Holcombs, the management team includes Ryan Still and Tyler Scarbrough.
Once settled in, the business became about culture. Holcomb believes establishing certain norms and guidelines, maintaining them and catering based on them, is the key to success.
"Our culture is at the root of everything we do," she said. "It's ingrained in everything. The inception of this business was built around this culture. We believe you build a culture where people know they are supported, backed and valued and they have a safe place to fall. We want to treat every guest that way, every staff member that way."
It was during the pandemic that Holcomb started to really notice a decline in customer service. Always a service-first person, whether running the front of the house in a Tex-Mex restaurant, as GM of a fast-casual place or as regional manager for a large sports bar franchise in the area, Holcomb believed service was the key.
Then COVID-19 hit and the industry was hit hard. First, folks weren't allowed to go to restaurants. Then when they were allowed, nobody was there to serve them. The ones left behind struggled to maintain certain principles.
"The challenges the pandemic presented diminished a lot of that standard," Holcomb said. "We had other hurdles around us that kind of took a back seat. My husband and I decided to bring back that kind of service. It's how we get through adversity. Regardless of the risk, we were willing to spend our time and our investment on it."
In the current climate, which features help-wanted signs in nearly every store window, as the national workforce demands to be better taken care of, Holcomb stepped up as much as possible. Using a motto of HCOP: Holcomb People over Profit, the couple goes to great lengths to foster relationships with employees and customers alike.
That means including things such as merit pay and going beyond the industry standards. Those kinds of gestures go a long way to keeping a staff of 31 happy. Holcomb said they find themselves with the good problem of sometimes not having enough hours to go around.
"It was easy for us," Holcomb said. "We wanted to bring something to the industry in general. It's hard to provide a job that's going to get those benefits elsewhere. I would say we pay the highest in Wayne County for a restaurant."
Inside, Holcomb follows the Beef O'Brady's playbook as required, maintaining a corporate identity, but tinkers where allowed. She said the company allows her to play with certain things, like drinks not on every menu, and maintaining popular items even if the parent company discontinues them.
On the menu, Holcomb says not to sleep on the steak tacos, her personal favorite, but said there's something to eat or drink for everyone's tastes.
The still-new Beef o'Brady's is open Sunday through Thursday from 11 a.m. to 10 p.m., and Friday and Saturday from 11 a.m. to 11 p.m.