Buckeye Deli is smokin'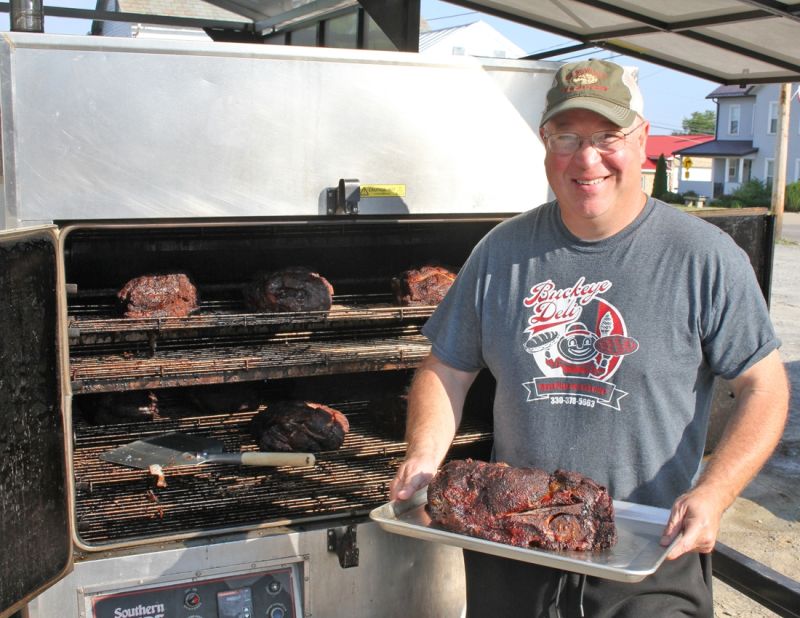 Steve Miller, owner of Buckeye Deli in Nashville, admits he wasn't someone who grew up smoking meats — or making pizza.
But Miller is a man with vision.
When he began his pizza shop years ago, he says he knew little about what he was getting into. Today, Buckeye Deli's pizza has a stellar reputation. Miller said he wants his newest venture into smoking meats to follow suit.
While he started smoking chicken and pork with little knowledge, like his pizza, Miller's commitment to striving for perfection has made the smoker a success over the past year.
"If I want to do something and I'm passionate about it, I'm going to figure it out," Miller said. "I am committed to making delicious food. I wish I had some great backstory, like I came from Italy or grew up learning to smoke meats from my grandfather, but, in the end, I'm just a guy who is willing to work hard to figure out how to make something as good as it can be."
Miller said he is a trial-and-error guy. He said while the chicken and pork have become staples for his smoker, he has other aspirations.
"I am a brisket failure," Miller said. "I'll eventually get there, but I am not going to put a product out there that isn't my best."
Miller does have one other item he has perfected in the smoker: corn on the cob.
"It's one of my favorites," Miller said. "We go to Harvey's Market and grab a couple boxes of corn and smoke it for two hours. It's amazing."
He purchased an old brick style pizza oven, and is planning on featuring this artisan style pizza on the patio.
Learning the process has meant investing time with individuals who have insight into their profession. His pizza started with a chef who gave him a dough recipe he still uses today. When he purchased the smoker, he connected with Patrick Smith, a chef and songwriter from Nashville, Tennessee who taught him how to work low and slow.
"Whether it is pizza or smoking meats, it's a learning process. I have had some great mentors," said Miller, who got into food when he ran the kitchen in his fraternity house at the Ohio State University. "Patrick has been amazing. He taught me about the craft of creating great food."
Miller's striving for perfection has added a savory addition to the pizza shop. He is in the process of erecting an addition to his deli's west side, where he is building a covered patio area so people can relax for an evening, fellowship and unwind.
"It's going to be sweet," Miller said. "We'll have bathrooms, garage doors we can open on nice days, and it will be a great place for people to have a relaxing evening in a little more upscale style."
He said they can seat 60-70 people on the patio, and they will serve barbecue chicken, pulled pork, pulled chicken and brick oven pizza.
In addition to dining at the Deli, Buckeye Deli Catering can provide solutions to every possible need. We offer a red sauce pasta which is great, but I am especially proud of my Chicken Bacon Alfredo. Everyone who tries them orders them again! These dishes are great for corporate events, weddings or even a quick meal for a basketball or baseball team. We also provide beverages for an event like beer, wine, water, soda and the coolers to keep everyone refreshed.
"People can basically create and cater their own event and save money by serving our exceptional food," Miller said. "Last year was a process of introducing the smoker to the community. I set about creating something special that I am passionate about, and I want other people to enjoy the journey with me."
Anyone wishing to create a Buckeye Deli fundraiser or take advantage of the catering service can call Buckeye Deli at 330-378-5663. For more information on the new additions or to find the entire Buckeye Deli menu, visit BuckeyeDeli.com. Buckeye Deli is located at 124 E. Millersburg St. in Nashville.