Chamber announces Business of the Year recipients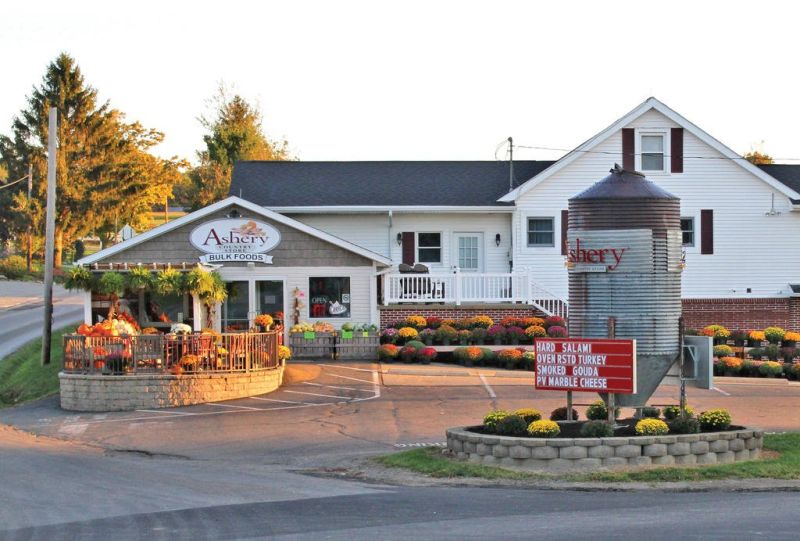 The Holmes County Chamber of Commerce announced the recipients of the 2019 Small, Medium and Large Business of the Year awards, the Community Service Award, and the Lifetime Achievement Award.
During the upcoming annual chamber meeting on Nov. 7, the awards will be presented to each of the recipients.
Small Business of the Year will be given to Paint Valley Equipment. Medium Business of the Year will be presented to the Ashery Country Bulk Food Store. ProVia will be recognized with the Large Business of the Year award. The Community Service Award will be presented to the Amish & Mennonite Heritage Center, and Bill Mullet will receive the Lifetime Achievement Award.
Each year chamber members have the opportunity to nominate businesses and individuals for the awards. The chamber nominations committee collects the recommendations and submits a narrowed list of nominees to the chamber board. The board individually evaluates and measures each business according to beautification, economic impact, entrepreneurial initiative, construction activity, and community reputation and involvement.
"Our community's entrepreneurs lead the way economically, philanthropically and with ingenuity. The chamber board has a tall task each year to choose from the best of the best. We congratulate these outstanding organizations and individuals," said Shasta Mast, executive director of the Holmes County Chamber of Commerce & Tourism Bureau.
Mast went on to talk about what an honor it is to sift through the many possibilities when it comes to doling out the annual awards, but she said each year, despite having so many to choose from, the timing always seems to narrow down their picks to the eventual winners.
"It is a daunting task, and we are fortunate to have these forward-thinking entrepreneurs. We are so fortunate to have local business people who are so engaged making decisions and investing their businesses and their people in our community. They support our local charities and local endeavors. Every year I think this is going to be a very difficult task because we see so much growth, and we have so many businesses, and their people are so heavily engaged in our community," Mast said. "But each year I think we have picked the best possible recipients we could have picked because of the timing for each of them. We as a community would not be blessed with the quality of life we have without these types of businesses providing both economically and through their support of our many nonprofit organizations."
For ProVia it marks the second time the company has been honored for a chamber award, but Mast said because the company has changed and grown so much since its first award in the early 2000s, it seemed appropriate to honor it again.
"They have built new plants, acquired new businesses and have grown so much since then that the time seemed perfect to recognize them again. Plus to be able to recognize Bill Mullet with the Lifetime Achievement Award makes for a nice presentation for a company that is so important to our economy," Mast said.
Mast said Paint Valley Equipment has quietly continued to grow into an impressive company in the Holmes County market and beyond.
"I think it is easy to take company's like Paint Valley Equipment for granted because they have just been doing their thing year after year without any fanfare," Mast said. "But they are so important to the industry in Holmes County that we felt it was a great opportunity to honor them at this time."
Ashery Country Bulk Food Store also has turned into a business that has grown and blossomed over the past number of years. Mast said as a member of Holmes County's tourism industry, the Ashery has become a vital part of the tourism scene in Amish Country.
"As a tourism partner they are incredibly important to our success as a whole," Mast said. "You drive by and look at what it looks like on a fall day and it is pretty impressive."
Mast said the Amish & Mennonite Heritage Center has played a key role in the community for a long time. She said the recent renovations made for a perfect choice to honor this year.
"They really are the caretakers of our community's history from an Anabaptist standpoint," Mast said. "We felt it was incredibly important to recognize the AMHC because of its importance to more than half of our county's population. Executive director Marcus Yoder continues to do a great job in raising the profile of that organization."
The awards ceremony and dinner honoring the recipients during the annual chamber banquet will take place Thursday, Nov. 7 at 6 p.m. at the Carlisle Inn Walnut Creek. The event is open to all chamber members. RSVPs are required.
For more information call the chamber at 330-674-3975.