Millersburg welcomes Babbs Family Practice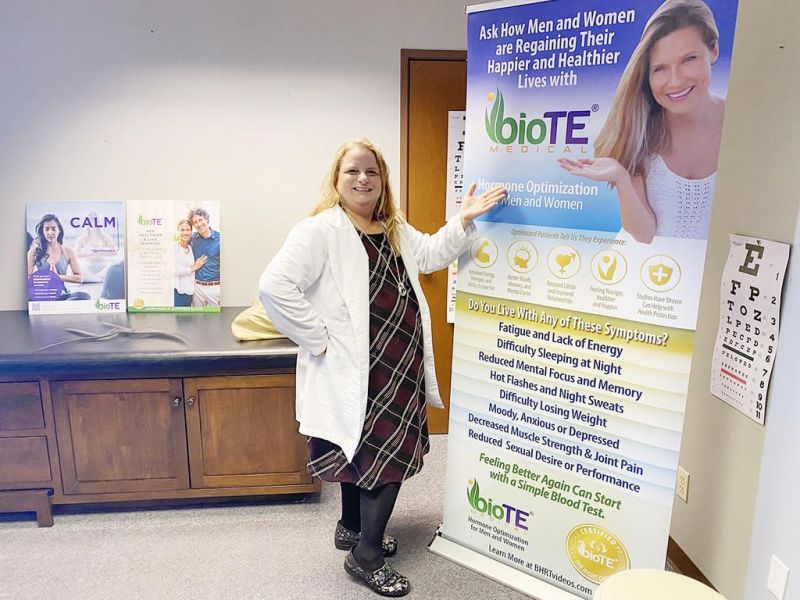 Welcoming a new business to the area is nice, but when the owner of the new business is oozing with excitement about being in the community, it sets the stage for a very promising future.
On Monday, Aug. 23, Holmes County and Millersburg officially welcomed a new business owner into the community in Babbs Family Practice, and with the grand opening ribbon cutting, it didn't take long to experience just how excited and enthusiastic new owner Christina Babbs is about getting involved in the Holmes County culture.
"Our goal is to take care of each patient with individualized care they deserve," Babbs said. "We care about what is the most important to our patients and optimizing patients. Millersburg has been so great to us. We have not run into a negative person, and everyone has been nice and welcoming to us everywhere we have gone."
Babbs purchased the business from Dr. Debra Beachy, who previously owned Grace Family Practice, located east of Millersburg on County Road 623 next to AloNovus Inc.
In taking over the business from Beachy, who retired, Babbs said she hopes to maintain the quality care and expertise Beachy created while taking the business to a whole new level in the process.
"This has been a dream for me for a long time," Babbs said. "Family practice is what I've always wanted to do. I've shadowed with Deb quite a bit to see what she does because I'm trying to practice the same way she did. She set the bar pretty high, so if I can just jump and touch that bar, I'm happy, but I will try to exceed it too."
Babbs has 17 years of experience in the nursing field. She also has a dozen years of experience in a vascular cath lab performing various venous and arterial procedures, and now she is excited to take the next step in her maturity.
Babbs Family Practice will focus on hormone-replacement procedures using BioTE methods in which they inject small rice-sized hormone pellets quickly and painlessly.
"Hormone-replacement therapy is when we draw blood to see where hormone levels are," Babbs said. "Over time our hormones start depleting, and by the time we are 35 or 40, our hormones are down. What we do here is optimize your hormones to where people are back to where they are about 20 years old. It makes for a healthier, happier life."
Babbs said it aids in health properties including heart, brain, kidney and liver protection while aiding in preventing fatigue and memory loss and aiding in weight loss.
In welcoming in Babbs and her staff to the community, several figureheads were present at the ribbon-cutting ceremony. They were excited to see a new business celebrate its arrival.
"We are a growing community and continue to have new people come in and start up businesses, and we are very welcoming and grateful that businesses want to come here," said Jason Hummel, board member for the Holmes County Chamber of Commerce and Tourism. "To see someone else start a new business and fulfill a lifelong dream is what we are all about."
Judy Lamp, director of Historic Downtown Millersburg, said she and the community should be excited about welcoming Babbs to the community because her enthusiasm and commitment to serve her community are exactly what drives Holmes County and Millersburg businesses.
"She has come in and been so enthusiastic in her desire to drive this business to the next level and to be a big part of this community," Lamp said. "It's so exciting that she wants to be here and wants to serve the people of our community and make people feel better."
Babbs, who hails from Creston, Ohio, is married with four children and said family means a great deal to her.
Babbs Family Practice is located at 7368 County Road 623, Unit B, east of Millersburg. For more information visit the website at www.babbsfamilypractice.com.