It's not like your grandpa's Army-Navy club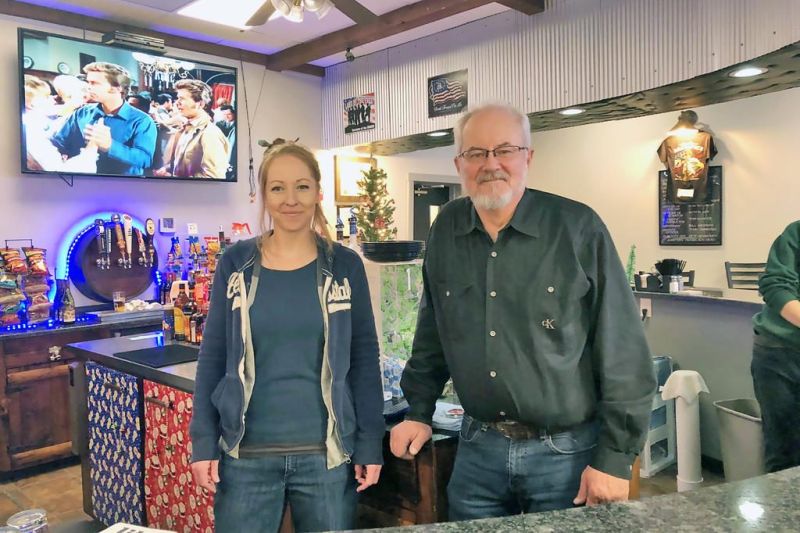 The reopening of Army-Navy Garrison on Canal Street in Bolivar is ushering in a new era for the club that was initially established in 1982. Gone are the too-dim lighting, scuffed-up bar top and dark walls. New are energy-saving LED lighting, a marble-top bar, new furniture and a bright flag wall honoring all branches of the military.
The new owner of the building and operator of the "canteen" inside is Ron Deal, who also owns the Zoar Market. The impending closing of the club in summer 2019 bothered Deal, who is keen on seeing veterans' organizations survive to give veterans what he sees as their due support.
While Deal never served in the armed forces, his father was a member of the National Guard, and his grandfather served in the Air Force.
Deal took over ownership of the property in early August 2019 after the previous management pulled out. The club was slated to close, so Cmdr. Roger Reardon approached Deal about purchasing the building and its food and bar business. Since Deal took over, the club has doubled its membership.
The renovations are all part of Deal's plan to attract younger veterans into the club. He knows veterans' organizations are struggling to infuse new blood into their rosters, a critical component for survival.
In addition to renovating the property, Deal has brought in some fairly big guns to help overhaul the kitchen and bar. Consulting on the menu, recipe development and staff training is Cameron Krahel, the former chef at the Canal Tavern of Zoar, an upscale restaurant just outside of the village.
"We plan to keep the menu small and simple with good food that reflects what people in this area are looking for," Krahel said.
Deal also has brought in Rachael Applegate, former manager of the Canal Tavern of Zoar, to oversee the bar and manage general operations.
The club is further reaching out to younger veterans through groups like Wounded Warriors, planning to sponsor several of its events in the future.
A historic past
Built in 1850, the timber-frame building that houses Army-Navy Garrison 1982 was originally a store that sold dry goods to travelers on the Ohio & Erie Canal. From about 1900-82, it was the area Masonic Lodge.
Deal said when he took over, the building needed some repairs. "Since it was built so long ago, things weren't exactly level or plumb."
In order to get the building renovated properly, Deal releveled the floor, placed new drywall, replaced the lowered ceiling tiles and updated the restrooms. He also replaced the old tables and chairs with new, more modern versions. The results speak for themselves.
Plans for a "cool" winter
Deal has a disco-themed New Year's Eve party planned for Dec. 31. "We'll have a DJ starting at 4 p.m., and we're asking people to dress in their best '70s costumes," Deal said.
The club will ask for a nominal cover charge for entertainment and a pork and sauerkraut meal at midnight, but that charge will be discounted for those who get in the spirit and wear costumes.
Deal also has plans for the rest of the winter including live entertainment every Friday and Saturday night and an Open Mic Night for area musicians on Thursday nights.
Memberships available
The club offers two types of membership: a Veterans Membership and a Sons and Daughters Membership. Veterans have full membership with voting rights; sons and daughters (or any relatives of veterans) have access to the club and all its other amenities as social members. Memberships through July 1 are available for $20. On that date the club will determine new annual membership rates.
Army Navy 1982 is located at 165 Canal St. in Bolivar. For more information call 330-874-3059.