Sugar Valley Bikes; e-riding in style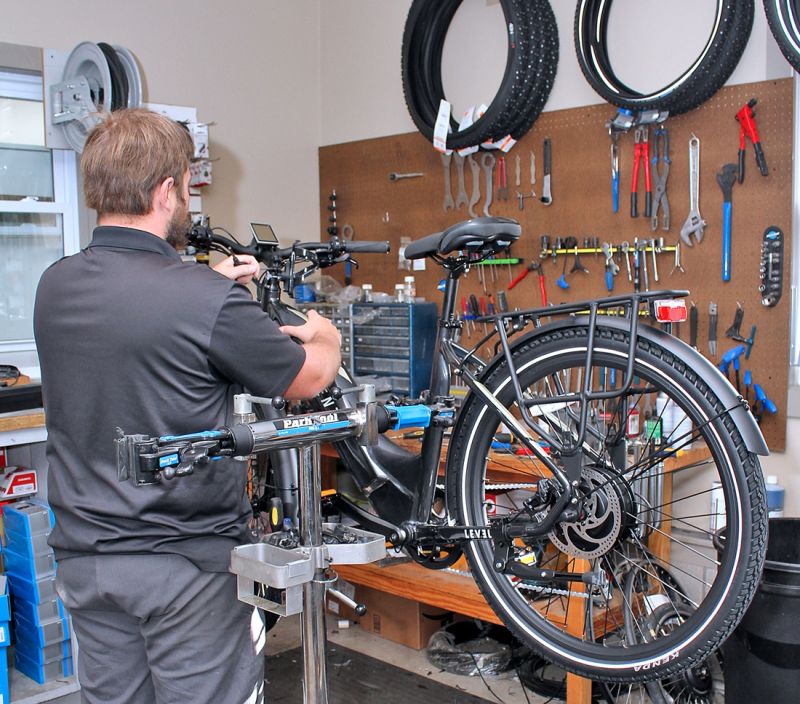 Electric bicycles — e-bikes — have become so popular recently that Sugar Valley Bicycle no longer sells traditional bikes, said Adam Yoder, owner of the sales and service shop in Sugarcreek.
"I started out with regular bikes when I opened the store in 2014, but in the last two or three years, the community has really embraced the e-bikes, so that's what I decided to focus on," Yoder said, adding the shop still does repairs and maintenance for traditional bicycles.
Sugar Valley's full inventory of e-bikes will be on display during the grand opening of its new showroom on Friday and Saturday, May 7-8.
"Guests will be able to see why our e-bikes are so popular," Yoder said. "It's going to be a fun time, with some prize drawings and free pulled pork sandwiches and beverages."
The new showroom is in the same location as the previous one, but bigger.
"We outgrew our old showroom," Yoder said. "We live here on site, so we needed more business space as well as more personal space."
He said living on the same property as the business allows him to spend as much time as possible with his family. That, he said, is one of the reasons he got into the bike business to begin with.
Yoder grew up working in his father's bicycle shop starting at the age of 10.
"I've always been mechanically minded and really enjoyed tinkering with things — taking them apart, figuring them out and putting them back together," he said. "It became a passion for me."
Around 2014 Yoder began to look for a profession that would let him spend time with his family, which now includes four sons and a daughter. He found a bicycle shop for sale and bought it. Until last summer, he worked the bike shop part-time.
"Sales have really taken off during the last two years, and last summer I started working full-time at the shop," he said.
The expanded showroom allowed Sugar Valley Bicycle to increase its selection of e-bikes and accessories.
"The Amish community especially is embracing the e-bikes," Yoder said. "They use them for transportation for the most part — to get groceries or going to visit people."
But off-road e-bikes also have been gaining in popularity. "The off-road bikes have wider, more knobby tires and more power," Yoder said.
Road-legal e-bikes, he explained, come in three classes by state law, generally categorized by maximum speed:

• Class 1 bike motors shut off at 20 mph, and it doesn't have a throttle, so some peddling is necessary to make the bike go.

• Class 2 bike motors also shut off at 20 mph, but a throttle lets the rider ride without peddling.
• Class 3 bikes will move at the maximum legal speed of 28 mph.
When you visit Sugar Valley, Yoder said, he'll work with you to choose the bike that best suits your purpose.
"The first question I ask a customer always is what kind of riding are they looking to do," Yoder said. "If you want to do a lot of trail riding, see the country or are looking for daily transportation, an e-bike is definitely the way to go compared to a regular bike. If you're riding it to work every day, you're going to want a sturdy bike that's going to hold up. The price of the bike is mainly going to be determined by the quality of components — especially the size of the battery and motor."
Sugar Valley offers a variety of e-bike brands, along with parts, service and accessories.
"Our main goal is to give our customers the best service possible," Yoder said. "We're always looking to find new models that fit what people are looking for."
Grand opening hours are Friday, May 7 from 8 a.m. to 5 p.m. and Saturday, May 8 from 7:30 a.m. to 11:30 p.m. Sugar Valley Bicycle is located at 1030 Skyline Drive NW in Sugarcreek. You can learn more by calling 330-852-0717 or by visiting SugarValleyBicycle.com. This story has been underwritten by Sugar Valley Bicycle.