The ultimate room refresh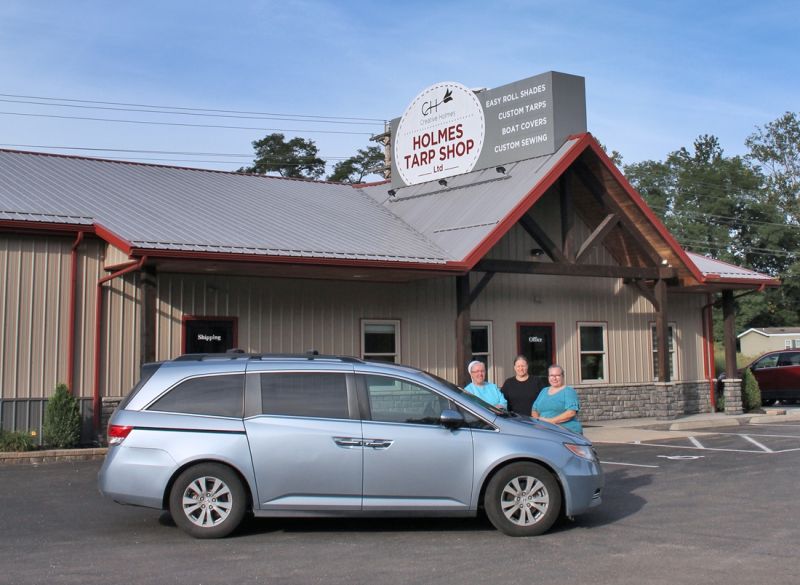 Ruth Yoder's father opened Holmes Tarp Shop 32 years ago, providing custom, heavy-duty tarp covers for boats, utility cabs, generators, outdoor grills, furniture and more to protect them from the harsh effects of the rain, wind and sun.
"After 13 years in the tarp business, we were seeing a real need for quality window treatments for the home," Ruth Yoder said. "In 2003 we made the decision to also focus on custom window shades and other decorative items like outdoor cushions, evencanvas bags and handbags. We created the brand name Creative Holmes and combined the two businesses."
Today, Creative Holmes/Holmes Tarp Shop in Millersburg is a premier sewing shop concentrating on quality service and offering customers the highest quality decor for their windows, patio furniture and more along with the original tarp offerings.
"We have lots of shades in the shop as examples of what we do, but everything is custom made," Yoder said. "For your convenience, we will come out to your home with fabric options, measure, then come back in two weeks to install the products and make sure everything looks and works just the way you want."
DIYers can call Creative Holmes and they'll send a catalog, fabric samples, order form and tips on measuring and installation.
"Windows can look the same but measure differently," Yoder said. "Measurements must be precise."
Creative Holmes takes great pride in their work and especially in their customer service. Their goal is to make customers happy by giving them exactly what they want.
"We do a lot of listening," Yoder said. "We've learned that listening is the most important part of our business. There have been lots of changes over the years, but one thing remains the same and that's our dedication to quality and service. Everyone has different needs in terms of colors, fabrics and window sizes. We have many fabrics in stock and can have some shades ready in just hours with a standard lead time of two weeks or less when ordering fabrics."
Yoder said the hardware on all shades is the highest quality on the market today.
"Everyone knows the spring-round roller shades where they fly up when you pull them and you can never seem to get them to stop where you want them," Yoder said. "Our shades have the beaded chain that allows you to stop at any point and the hardware lasts and lasts. You'll be changing the color and fabric of the shade long before the hardware needs replacing."
Yoder said she's had the same shades in her own home since 2003 and just changes the shade fabric.
"The hardware components are like new," Yoder said.
With fabrics of all colors and patterns, Creative Holmes will also update your outdoor decor with a fresh, new look, courtesy of outdoor cushions and pillows.
"This is a quick and easy switch to make to change the entire look of your furniture," Yoder said. "Sometimes it's difficult to find the right size cushions for your outdoor furniture, not to mention expensive. The cushions tend to wear out a lot faster than the actual furniture, too. This option gives your furniture new life and a whole new look for much less than replacing it. And if the cushion stuffing is also worn, we'll replace that, too."
Monday, Oct. 10 through Saturday, Oct. 15 is customer appreciation week at Creative Holmes. Enjoy these discounts.
• Free measuring on all orders.
• Free install on all orders over $1,000.
• 10% off DIY.
• 10% off all gift items/bag line.
• 10% off all custom covers.
"We are taking the whole week to treat our customers to lots of great deals," Yoder said. "It's a great time for some early Christmas buying. Stop in and enjoy coffee, pie, ice cream and shop all that Creative Holmes has to offer."
Creative Holmes/Holmes Tarp Shop is located at 9098 State Route 39 in Millersburg. For more information check the websites CreativeHolmes.com, HolmesTarp.com or call 330-674-2590. Also find them on Facebook and Instagram.