Wooster Community Pharmacy is all about YOU!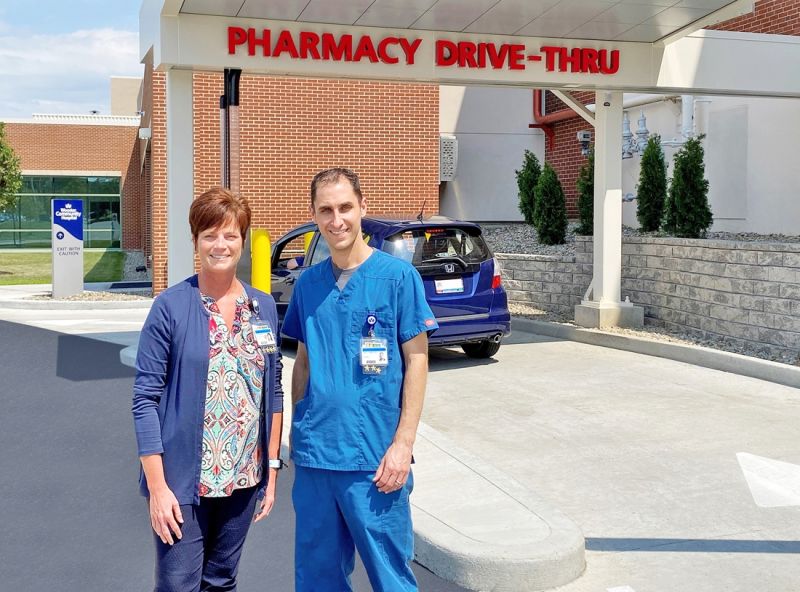 Because it's located inside Wooster Community Hospital, some people mistakenly assume Wooster Community Pharmacy only serves patients and employees of the hospital.
"Fortunately, that's not true," said Jan Maxwell, managing pharmacist at what she called the "last standing independent/community pharmacy in Wooster."
"We are open to the public, we offer competitive pricing, we're convenient to get to, and, best of all, we are extremely service oriented," said Maxwell, who has managed the retail pharmacy since it opened in 2008.
Plus, she added, being located inside a hospital offers some convenient advantages for customers.
"We have direct access to the physicians at the hospital," she explained. "If there is ever any kind of questions or issues about a prescription, we're able to easily connect with the physician to get any kind of discrepancy clarified. Many people have had that experience where a pharmacy can't fill a prescription and can't reach the doctor who prescribed it. We're pleased to be located where we are because Wooster Community Hospital has such a stellar reputation in the community."
Pharmacist, Tyler Kitchen said Wooster Community Pharmacy is continually working toward innovation and expanding its services. Prescription compounding, he said, is one example. Kitchen, who joined the pharmacy team in 2019, had taken special training to become a specialist in prescription compounding, making Wooster Community one of the few — if not the only — pharmacy in Wayne County that offers the service.
"Prescription compounding is making customized medications that aren't commercially available," he explained. "We can make customized formulations for things like pain-management creams and hormone-replacement therapies. We can combine medications. For example, we have ointments that combined both anti-inflammatory and anesthetic properties, and we can make suppositories. We can make a lot of different dosage formulations that you can't get at a typical pharmacy, and for pediatrics, if there isn't a liquid option available for the child, we can take the capsules or tablets and turn them into a liquid that is easier to take."
The pharmacy also specializes in low-dose naltrexone — a drug that is typically used to manage alcohol or opioid dependence. Additionally, there is also evidence that low doses improve conditions such as fibromyalgia, weight loss, and certain autoimmune disorders," said Kitchen.
Along with prescription services, Wooster Community Pharmacy also carries over-the-counter products, like cough and cold medications, allergy and pain relief, first aid, foot care, feminine care, and eye, ear and skin products.
"We also carry wound supplies, like tapes, dressings and bandages," Maxwell said. "We have most of the things you would find in a chain pharmacy."
Wooster Community Pharmacy also offers services that make it convenient for customers to get their medication, Maxwell said.
A drive-thru and a home-delivery service are among them.
"Our delivery service sets us apart from other health systems in the area," Maxwell said. "Everybody is qualified for prescription delivery, which costs $5 within a 10-mile radius of the hospital."
The pharmacy also provides "Meds to Go," through which it delivers prescriptions to the bedsides of patients before they leave the hospital.
"Sometimes when you're discharged, the last thing you want to do is stop off somewhere on the way home to get a prescription filled — which may be why many people wait several days, or maybe they don't get it filled at all," Maxwell said.
Another convenient service is Mobile RX, a mobile app through which customers can keep track of and order prescriptions on their mobile devices. The app offers express refills, refill reminders and provides pharmacy information, including hours of business, contact numbers and directions to the pharmacy, she said.
The Wooster Community Pharmacy is located on the ground floor of the of the main campus, in the connecting hall of the Outpatient Pavilion, north wing. The hospital is located at 1761 Beall Ave. in Wooster. Designated 15-minute parking spots are available for pharmacy customers in parking lot "G". You can order prescriptions and schedule home delivery by calling 330.202.5570. You can get additional information at woosterhospital.org.