In Germany they call it a stab stick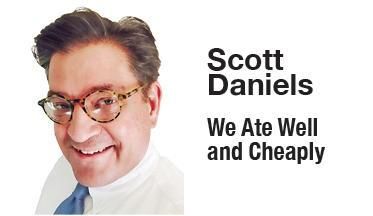 A friend living in Europe recently asked for advice in choosing a Kitchenaid stand mixer. She shared links to places she was considering buying from, and we must be grateful those mixers are manufactured here. They are much more expensive to buy there, so I can understand why she wanted to get it right.
In the process of reviewing the models she sent, I learned something very cool. Immersion stick blenders, the things you use to whiz up sauces and such right in the pan, are called something like "stab stick" in Germany. So that's what they shall forever be called in my house from here on out.
We had been using our stab stick heavily for about a year. Our Kitchenaid food processor, which had been chugging along for more than 25 years, had to finally be replaced. The machine itself worked fine, but the bowl fell to pieces. Replacement bowls were strictly on the secondary market at more than the price of a whole new machine, so that became an easy choice. All we had to do was wait until I was in the right mood to cut loose the cash for a new one.
We used the stab stick for a long time.
We finally ordered a new Cuisinart 11 cup model last month, and we like it very much, maybe even more than I liked having the money it cost.
For the budding cook in your circle this year, a quality food processor is at the top of my list of suggested Christmas gifts. You can get really cheap ones out there by several manufacturers, but you'll get what you pay for.
A food processor is not a place to be stingy. I used the slicing blade to thinly slice a couple dozen onions for soup last week in less than a minute because the blade is well made and scary sharp, which I know because I nicked my thumb assembling the thing.
Powerful stand mixers, food processors, stab sticks — these are gifts any cook would appreciate. I guided my friend away from the mixers with the tilting top, as I find they tend to walk all over the counter and protest noisily if you try to use them to make dough. The ones with a stationary power head are much sturdier to work with, though a bit more expensive.
In choosing a food processor, safety features, a large capacity bowl, ease of use and ease of cleaning are the big considerations.
A stand mixer opens the door to every kind of fancy attachment you can imagine, some more useful than others. If you give the mixer this year, you can give attachments every year until one or the other of you has expired. Meat-grinding attachments are handy, as are pasta rollers. You can get temperature-controlled bowls, ice cream makers and even mini food processors to glom onto your main machine.
Our stab stick, also by Kitchenaid, has many bells and whistles we seldom use. You can adjust the speed in minute increments and attach numerous blade designs or a wire whisk. We have only used one speed and one blade because the only thing this stick stabs is my marinara.
I'm suggesting these things because they are fairly safe, basic, very useful additions to any kitchen. You might want to float a sneaky trial balloon before gifting someone with something like an air fryer or countertop rotisserie. Not everyone wants such a thing or has space for it.
You make room on the countertop for a mixer that will keep you in sourdough loaves for the rest of your life. A rotisserie is going to live in the basement for much of its life. The one I got for Christmas one year was retired after its greasy maiden voyage.
My Christmas gift to you is being able to call your new immersion blender "stab stick."