Garaway M.S. creates journalism class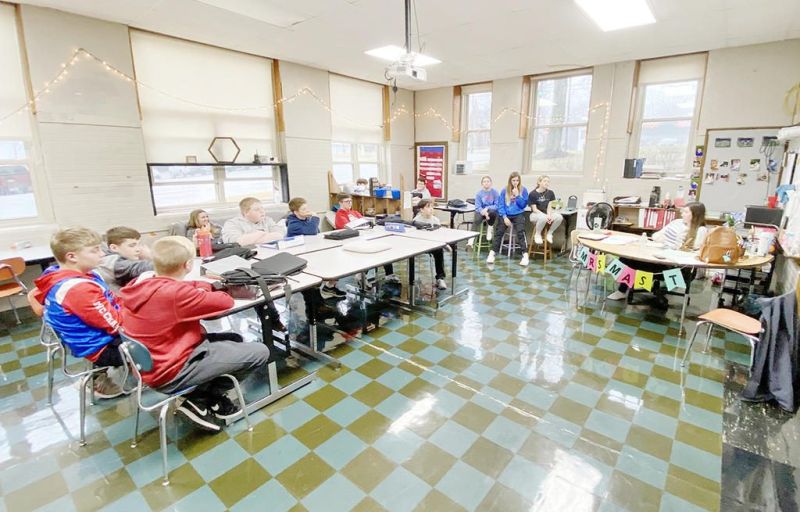 Nearly two-dozen Garaway Middle School seventh-graders got together to participate in a new classroom option that is currently in its trial phase.
The school is considering starting a middle school newspaper class to give students an additional opportunity to learn about journalism, news reporting and the art of putting together a newspaper.
The class is being spearheaded by Megan Mast, a seventh-grade interventions specialist who hopes to bring a variety of local journalists and people in the news industry into the classroom to share with the students while also providing them with a chance to get some firsthand experience in the industry.
"We wanted to explore an opportunity for the students to do something other than sit idly in a study period," Mast said. "One of the goals is to introduce the concept of the newspaper industry to them. Our hope is that we can have the students go out and interview different people around the school and get some experience."
One of the initial efforts was for her students to meet collectively, and she became the inaugural subject. The students sat and asked her questions about her career and life outside of teaching, and thus, here is the class' first foray into the art of interviewing for a printed piece.
Student question: What made you want to become a teacher?
Mast's answer: I've always really enjoyed working with kids, and I wanted to be an elementary teacher when I first started. Then my first student teaching assignment, I went into a kindergarten classroom and was almost overwhelmed by 25 small children wanting me to tie their shoes. The more I went through college, the more I was drawn to special education, but I've always been drawn to working with people and kids."
Q: Where did you go to school?
A: I went to elementary and high school at Benjamin-Logan, and I went to college at Bluffton University, a small Mennonite college.
Q: Who is your family?
A: My immediate family is my husband Neil, my 2-year-old son Calvin and we will soon have another son. I grew up with my mom and stepdad, and I have a brother.
Q: What sports did you play?
A: I consistently played soccer up through college, and I ran track for four years and played a little bit of basketball and softball through middle school.
Q: How long have you been teaching?
A: This is my seventh year.
Q: What is the most rewarding thing about being a teacher?
A: The most rewarding thing for me is making connections with kids. When a kid comes to me and is struggling and having a really hard time — they feel like they can trust me enough to come to me and have a safe adult talk to them — that helps me get through the frustrating times of teaching too.
Q: What are the frustrating things about teaching?
A: When you think you have a lesson that you're really excited about and the kids don't get invested in it and it's not working the way you thought it would. Also, dealing with the political side of teaching. Sometimes parents or teachers get frustrated with the way things are done. You want to be here to make connections with kids and teach, but we have to go through all these other hoops.
Q: Have you ever wanted to do something else other than teaching?
A: Yes, there have been times, like in my first year of teaching I taught in a really difficult classroom where kids had some pretty severe disabilities. I would have to deal with kids who were having meltdowns and be at school until 8 p.m. making lesson plans. There are other times when I feel like the effort I'm putting in isn't being received, which I think is pretty common for any teacher. But when I think about not being a teacher, I can't imagine there'd be anything I'd enjoy and get more satisfaction out of more than teaching.
Q: Have you always wanted to be a teacher?
A: There are other things in the education field I've looked at, but the level of education required is a doctorate, and I think right now it's more important for me to be teaching, which I already enjoy.
Where the class moves from will play out throughout the rest of the year, and Mast said she hopes there will be enough interest in the class to generate a platform for those who want to accept the challenge to continue writing.
"Hopefully, it can spark a light in some of their minds to explore the possibility of writing," Mast said. "It will also give them a chance to increase their speaking skills and hopefully help them feel more comfortable talking in front of people."
With their first session now in the can, the classmates are off and running as they explore the world of journalism.