Holmesville students get tour of Melway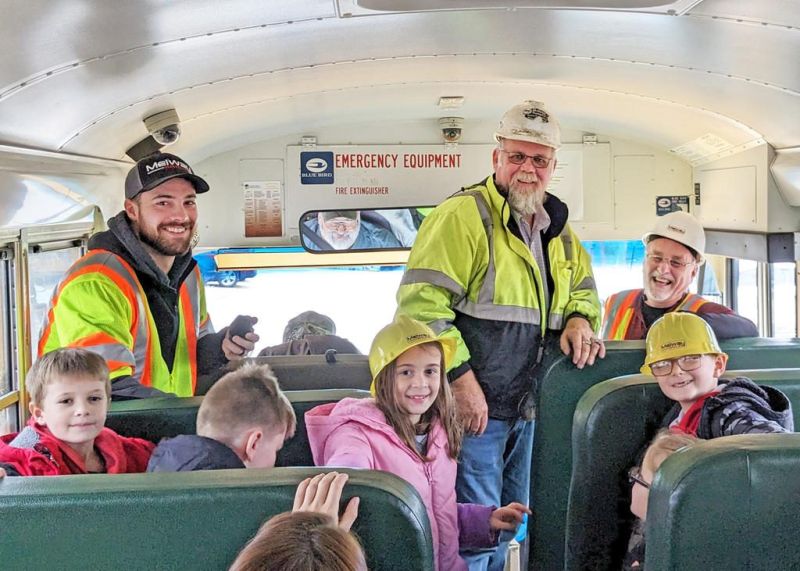 On Friday, Jan. 20, students at Holmesville Elementary were treated to a field trip to Melway Paving — actually, three field trips, as separate groups of students made the short bus trip in each of the three time slots throughout the day.
The trip was an opportunity for the students to explore possible careers — and nobody had to leave the bus. Upon arrival at the plant, three Melway employees got on the bus and led the tour, which went by the company offices and all of the equipment, with the tour guides explaining the purpose of each piece of equipment and how it was used. The groups also learned about the different types of gravel and how it is processed.
Students learned about dredging, saw a water wheel operate, and the entire bus was driven on to the scale and learned how much the entire bus and students weigh, followed by a trip through a giant car wash.
The employees talked about the yearly trainings they have to do and explained day-to-day operations. Students also saw the asphalt crusher, drove through the mines and learned about the onsite laboratory. They also learned about the entire process, start to finish, of mining stone and making asphalt.
At the tour's conclusion, each student received a custom Melway hard hat. The staff and students at Holmesville Elementary expressed gratitude to Melway Paving for going out of its way to make this experience and for contributing to the betterment of the community.