5 ways to buy local foods in Wayne County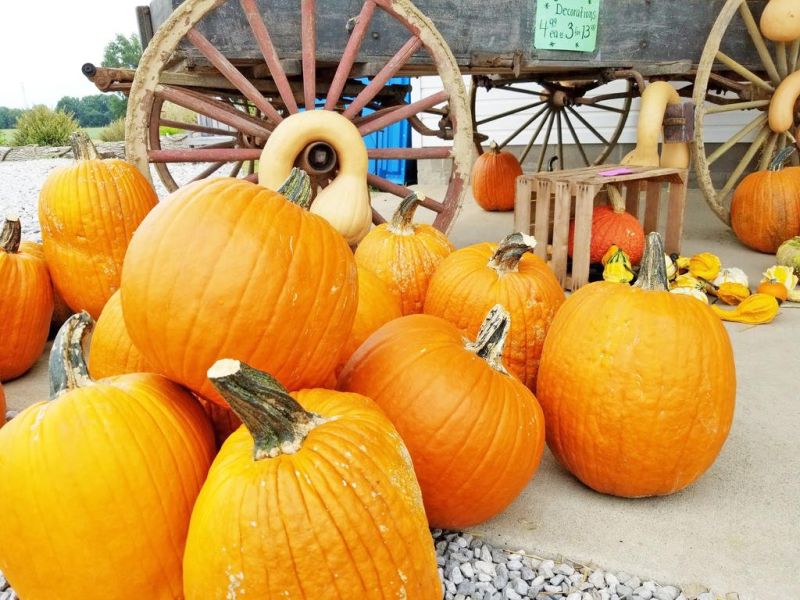 Wayne County is one of the top counties in Ohio for agricultural production, so consumers have a lot of options for buying local foods.
Supporting local foods is an area where "the more, the merrier" applies across the board. The more farms are preserved, the more the community benefits by maintaining its rural character. More local food processing also supports a greater number of jobs, which in turn stimulates the local economy.
Here are some of the best ways you can buy local foods in Wayne County:
Farm stands
Numerous farm stands dot the landscape in Wayne County. Purchasing food at farm stands can be an enjoyable activity, particularly in the fall. Moreland Fruit Farm in Wooster is well-known for the diversity of products they offer. Every Friday and Saturday through the end of October, the farm offers pick-your-own apples and pumpkins, as well as hay rides.
Fall is a bountiful season with much to offer. The Wayne County Convention and Visitors Bureau lists a number of outdoor events taking place at farms across the county, many of which include pick-your-own apples (www.wccvb.com/upcoming-events).
Farmers' markets
The Downtown Wooster Farmers' Market was founded a little more than two decades ago and is still going strong. It's a producer-only market, meaning everything is grown or made by the people selling it.
"For me, the highlight is talking to the people and seeing them go away happy with their food," said Mary Gnizak, manager of the farmers' market. "People get to ask farmers directly about how the produce is grown, how is the soil or any questions they have."
Gnizak is a farmer herself, owner of Adonai Acres. She enjoys the farmers' market also serves as a resource for the community. "Even if consumers have their own gardens, they come and ask questions: 'When should I plant my garlic? How deep should I plant it?' I often say, 'You may need to try a different variety until you find one that grows in your soil,'" she said.
One of Gnizak's roles is that she seeks out new vendors when the farmers' market has vacancies. This year she was pleased to find a producer of gluten-free products and another who sells mushrooms. This season's farmers' market will continue through mid-October.
Additionally, the Wooster Farmer's Market is held on Thursdays until mid-October from 8 a.m.-noon at the Wooster Community Center, 241 S. Bever St. in Wooster.
Cooperative markets
Local Roots Market & Café is a cooperative located in Wooster. "It's in our mission statement that we want to cultivate community. We're all about knowledge and sharing and transparency in food systems," said Adam Schwieterman, Local Roots executive director.
Because Local Roots is owned by its members, it is a "pass through" organization that gives up to 95 cents of every dollar directly back to the more than 200 producers that sell products there.
"Local Roots, as a cooperative, is not structured to make a profit. It's structured to help out its farmers, bakers and artisans as much as possible. We truly work hard to keep our overhead as low as possible, which means the highest margins possible for producers," Schwieterman said.
Many of the products sold at Local Roots have a type of certification differentiating them in terms of their impact on the environment or their treatment of their workers.
"We love organic and non-GMO, and there are certifications like Certified B corps, 1% for the planet or fair trade," Schwieterman said. "However, a lot of our producers are micro-businesses and are too small to be able to afford to go through these certifications. We, of course, still include products that aren't certified to offer a wider range of local products. We are serious foodies, and we love to sort through what the region has to offer, and we try to bring the best of the best into our market."
Regional grocery stores
Regional chains, like Buehler's Fresh Foods with its 15 grocery stores in Northern Ohio, can offer an abundance of local foods.
"We consider ourselves the smaller local chain that wants to have relationships and loyalty with our local food suppliers. Sometimes when you get into a bigger chain, they don't have the opportunities to work with the local growers. But we have good programs where we try to promote our local vendors weekly," said Christina Melillo, director of packaged goods at Buehler's, adding the chain currently has more than 100 local items.
Dave Savidge is the director of meat and seafood at Buehler's. "We have a good dozen and a half local companies that we've been using for a while (in meat and seafood)," he said. "Quality has to be No. 1, and your product also has to have something that differentiates it."
Freshness is a factor as well. "We used to have a slogan: 'Produce so fresh it could be on the field one day, on your table the next.' And that's still true," said Buehler's Jeff Tomassetti, director of produce and floral. "We have a buyer who goes to Mt. Hope Farmers Auction in Holmes County two days a week. This time of year we fill four semi-trailers a week."
Tomassetti's job requires him to understand exactly when products will be harvested, how they will be stored and how they will be transported. "I'm on the phone with our vendors every day. Like Maurer's Farms (in Wooster) — we've worked with them for 50 years," he said.
Small food processors
There are many food processors in the region, making products like cider, cheese and sausages from local agriculture, and you can often buy direct from them. Hartzler's Family Dairy, for example, has a majority of its milk production coming from Hartzler's own farm in Wayne County. Hartzler's opened the dairy-processing facility in 1996 and currently employs around 25 employees year round and nearly double that in the summer.
Hartzler's milk is differentiated by being minimally processed, which maintains many health benefits.
"We process the milk here using the time-tested slow vat pasteurization process. It is heated to the lowest temperature possible that kills the bad bacteria but keeps the bacteria that helps your gut health," Hartzler's James Maibach said. "We also do not homogenize our milk; that means it forms the cream on the top. The benefit is the more homogenization you do to milk, the hardest it is on digestive health."
Hartzler's offerings include milk, single-serve flavored milks, ice cream, butter, sharp white cheddar and mozzarella string cheese, all from the milk it produces. While Columbus and Cleveland are the biggest markets, Hartzler's also sells outside of the state to distributors in Indiana and Pennsylvania. Customers can stop by and purchase direct.
Most well-known to Wayne County residents might be Hartzler's ice cream. "We mix it and bag it, then store it in a freezer. Then we put it into the ice-cream processor and add by hand any flavor, making small batches on site," Maibach said. "We sell to some colleges and few restaurants, but the majority is sold in our store."