John Gregory, a man of many hats, hangs a few up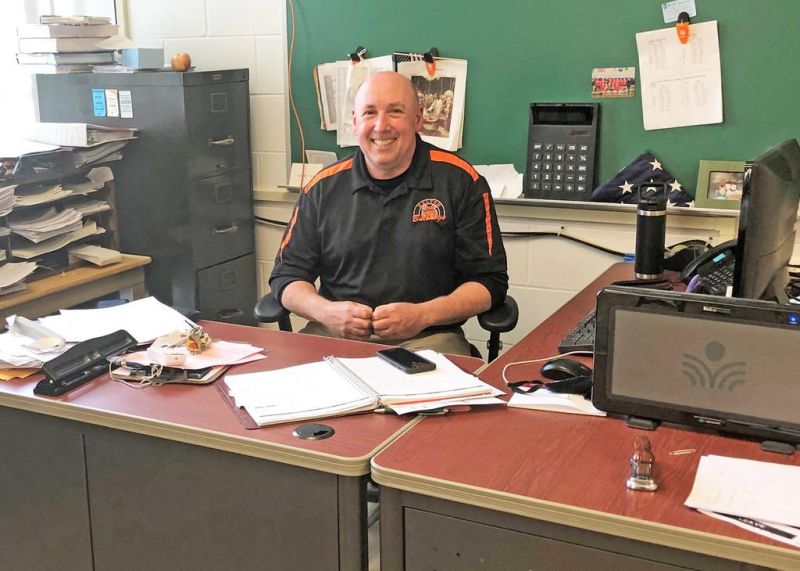 John Gregory conversed about a variety of topics for several minutes in his classroom at Dalton High School, which has big glass windows with a good view of the front parking lot and lawn.
It was a sunny early afternoon in mid-April, and Gregory was in a relaxed mood while shooting the breeze, until the focus was turned to the reason for his meeting with this reporter.
"You know I'd rather get dental work done, without novocaine, than talk about myself," said Gregory, who was suddenly fidgeting in his swivel chair. "I've never been a type of person who wants to be out in front."
After 24 years as the Dalton High School athletic director and 27 as an assistant basketball and volleyball coach, Gregory is retiring at the conclusion of this school year. The 58-year-old will continue to teach a full load of math classes, but he's looking forward to having more time to spend with his family.
Gregory might not want to step into the spotlight, even during his final act leading the Bulldogs' athletic program, but others are happy to see him get recognition.
"We're definitely gonna miss him," Dalton principal Chris Black said. "John's obviously had a great impact on our community in a positive way. I've been here for four years, and he's really done a great job of helping to acclimate me to the community and understand what it means to be a Dalton Bulldog."
Dalton basketball coach Kaleb Reed had a strong sports background before coming to Dalton in 2017 to teach and coach, having starred in high school at Northwestern and then played basketball at The College of Wooster for Ohio Basketball Hall of Fame member Steve Moore. He also coached at Mapleton from 2014-16.
Reed called Moore and Gregory two of the most humble men he's ever met.
"Mr. Gregory has helped a lot with my knowledge of the game of basketball, my interaction with kids and my leadership because he's been around for so long," Reed said. "He's also a great person."
Enjoyable career
Dalton has been the smallest high school in the Wayne County Athletic League for most of Gregory's 27 years at the school.
"Rittman's numbers dropped off for a couple years, and we passed them," Gregory said.
At a small school like Dalton, educators wear many hats.
Gregory teaches five math classes: physics, calculus, precalculus, trigonometry and statistics for grade 10-12. He switches gears to handle his AD duties at the same classroom desk, using three-ring binders and a color-coded desk calendar.
Gregory graduated from Orrville in 1981, where he played baseball for Jim Swaney. The idea of becoming a teacher and coach was planted then.
"I liked how Mr. Swaney and my math teacher Dick Mast related to students and saw the impact they had," Gregory said.
Gregory graduated from Akron with an engineering degree and would later add an education degree.
During Gregory's time as a college student, Wayne County Sports Hall of Famer Diane Shanklin gave him his first coaching job as a freshman volleyball coach.
Gregory started his full-time education career as a teacher and coach at Lorain Clearview in 1988. "I was at Clearview for six years," he said. "It was a great experience for me. I'm happy that I was able to help some kids during my time there. Seeing how rough some of them had it made me appreciate even more how fortunate I was to grow up in Wayne County."
Gregory's brother, Tom, had moved with his family to the Dalton district and suggested John move there.
The timing couldn't have been better, and the rest, as they say, is history.
In Gregory's first two years at Dalton, he was an assistant coach on back-to-back state Final Four teams, coached by Dave Potopsky in 1994-95 and 1995-96.
During Gregory's time as AD, the Bulldogs have won two state softball championships (2006, 2007) and also made Final Four appearances in volleyball (2010, 2016, 2020) and baseball (2005, 2017). There also have been numerous state qualifiers in track, cross country and wrestling.
The Bulldogs won the WCAL All-Sports Trophy in 2019-20 and 2004-05.
Gregory also is proud of Dalton's facilities, starting with an auditorium that was completed soon after his arrival.
Improvements since include an auxiliary gym, new locker rooms and a new wrestling room.
"They were all made possible through community donations," Gregory said.
New football bleachers have been installed, and plans are being considered for a new softball field.
Family values
"We have great support from our community," Gregory said. "No place is perfect, but we have good values that have been established within the families, and you can tell with their kids. They come to school, and they work hard in the classroom and in athletics. That combination makes it enjoyable to come to school each day."
After working hard for Dalton for nearly three decades, Gregory is looking forward to spending more time with his home team: wife of 27 years, Terrie; son Jake, 25, who works at the Ripken Experience in Pigeon Forge, Tennessee; daughter Emilee, graduated from Ohio State in 2020; and daughter Abby, college student who has a 1-year-old daughter, Tatum.
His parents, John and Shary Gregory, are lifelong Orrville residents.
"We've always had to squeeze in vacations between seasons or camps," Gregory said. "I'm looking forward to more family time — more golfing and road biking."
Wherever the new roads lead for Gregory, his heart will always be in Dalton.
"I never really aspired to be a head coach," Gregory said. "I've really enjoyed my roles of being an assistant coach and helping the coaches as the AD. I feel those are really important roles of a school district, and I feel fortunate that I've been able to do them at Dalton for all these years."