Quilts of Valor honor US veterans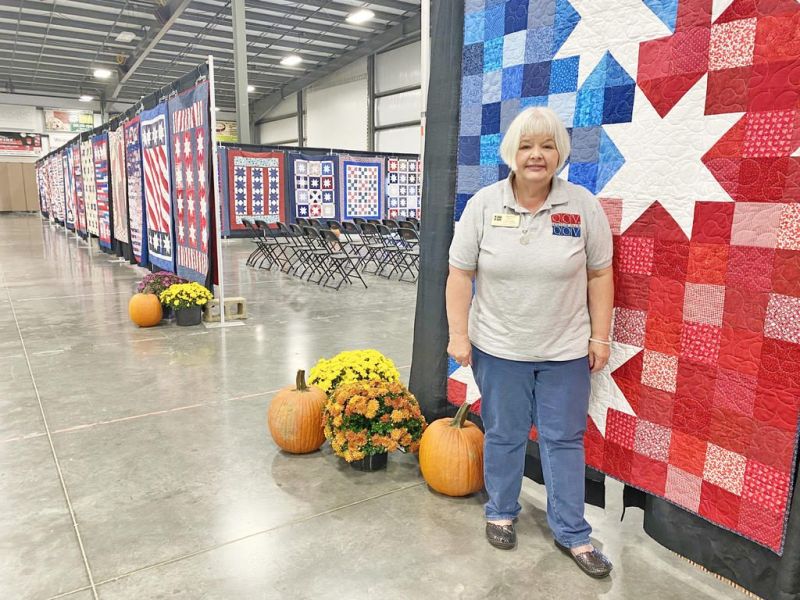 The Red, White and Blue was on full display during the annual Ohio Amish Country Quilt Festival Sept. 9-11 in Mt. Hope, where nearly 180 patriotic quilts were hung as part of the display of Quilts of Valor.
In attendance at the event was Maribeth Shreve, West Virginia coordinator for Quilts of Valor Foundation, an organization that connects quilters with the single purpose of creating patriotic quilts that will then be handed out to veterans as a show of support for their service to their country.
According to Shreve, Quilts of Valor is a tangible way the quilting community can show their support for veterans as they hand stitch each quilt with love, prayer and healing.
"This is a unique way for quilting women to show their support and love to those who served our country, and this project has been a blessing to many," Shreve said.
The quilting community made the quilts in quick order, and the recent quilt exhibit in West Virginia went far beyond anything Shreve could have desired.
On Sunday, Sept. 5, Quilts of Valor-West Virginia placed more than 125 of the quilts on the steps of the West Virginia state capitol building in Charleston, West Virginia, with more on the surrounding grounds. This display was their way of paying tribute to veterans, showing their appreciation for their service and sacrifice. Following this event, the quilts traveled to Amish Country as part of the Ohio Amish Country Quilt Festival.
After the show the quilts will have one more stop.
"These quilts will now be awarded across the state to our West Virginia veterans," Shreve said. "Hundreds of volunteers have worked for months to make these quilts a reality, and when we present a veteran with a quilt, many of them say it is more important to them than receiving medals because it came from their community, their nation and local people who gave from their heart. It seems especially important to Vietnam veterans who were scorned for their service."
With the nation remembering the sacrifices of those who served and died during the attacks on 9/11 20 years ago, Shreve said it was an important time to show appreciation for the veterans who have given so much for their country.
In creating this recent exhibit, Shreve said she realized many women don't have the approximate $250 needed to make an entire quilt. To get as many quilters involved as possible in crafting quilts for veterans, she began asking women to use their scraps to make one block pattern, that being the floating star pattern, which Shreve said is a great pattern because it is a floating pattern, meaning it doesn't have corners and point to match up in the block, making it easier for novice quilters to put together.
She and other volunteers put these blocks into kits and received other donated fabric to create the 183 quilts. And then it came down to finding enough people to assemble the quilts.
While the floating star pattern was featured, that didn't mean the quilts looked alike. In fact, they looked nothing alike outside of the red, white and blue theme, as quilters used their talents to create art that would touch the hearts of veterans, who often would wrap themselves in the quilt once presented with one.
In the matter of just three months, many quilters all over West Virginia and even into Ohio had made the 183 quilts. Shreve and many other women then traveled to the capitol building in West Virginia for a photo opportunity, where they displayed all the quilts on the courthouse steps.
"It's been a phenomenal experience and a real blessing not only to the veterans to whom we present a quilt, but to the hundreds of women who have worked on them," Shreve said.
Amazingly, the whole courthouse steps project began in late April, so fingers were flying and women were investing in the project to get more than 180 quilts done in such a short time.
"When we decided to do the capitol steps, it was said we needed an army to complete the job, and that was pretty much what we got," Shreve said. "Women came forward in droves and did a lot of work in a very short time. It has been heartwarming and somewhat overwhelming to see the type of support we have received to honor our veterans in this unique way."
She said one of the most rewarding experiences of the whole effort has been the gratitude and emotions of the veterans as they receive their quilts. From tears of gratitude to joyful thanks, she said each presentation is emotional.
She said the group's foundation lies in several key beliefs, those being treating all people with respect, promoting excellence, valuing serving others over self and being accountable. She said these core beliefs are all shared with those who served in the armed forces.
Since 2003 the organization has handed out more than 300,000 quilts to veterans nationwide. Shreve said Ohio also has a QOV movement but currently lacks a coordinator. When the leaders of the quilt show contacted her about bringing the West Virginia display to the show in Mt. Hope, she eagerly accepted.
"It is my honor to be able to share the passion these women have in recognizing those who served our nation, and coming to Holmes County was something that I was very excited about," Shreve said.
To learn more about Quilts of Valor, visit www.QOVF.org or the West Virginia branch of QOV on Facebook.