Win a new bike with Hogs for Hospice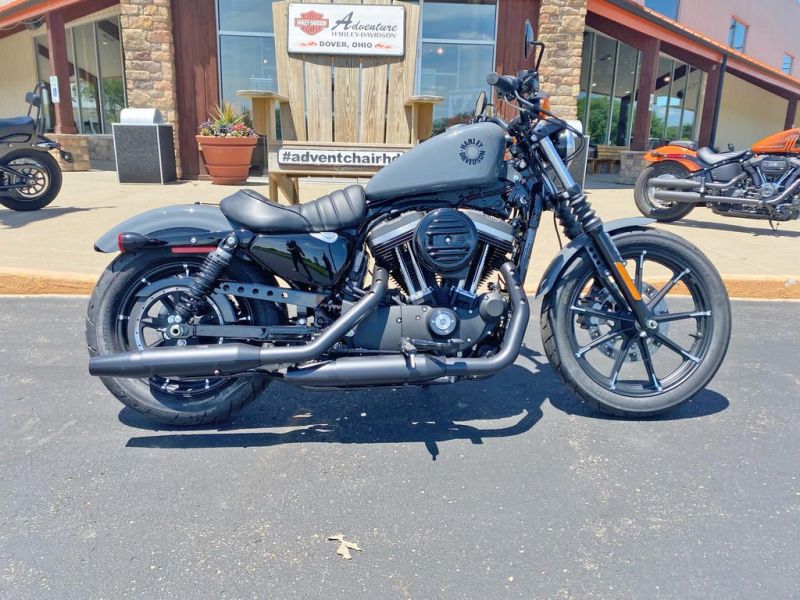 If you've been eyeing up a new motorcycle but despair of ever finding the spare cash, a new Harley Davidson bike could end up in your garage this summer for the price of a $20 raffle ticket.
Community Hospice of Tuscarawas County is partnering with Adventure Harley- Davidson of Dover to offer Hogs for Hospice, in which a gunship gray 2022 Harley Davidson Iron 883 will be raffled off to raise money for the end-of-life care provider. Tickets are available now.
Kim Gray, event coordinator at Adventure Harley-Davidson, said the raffle has been in the works for a couple of years. "We were going to do this before but the Covid 19 pandemic interrupted that process. We are happy to be able to do it this year."
"That's right," said Mona Sayre, fundraising and community events coordinator at Community Hospice. "Mike and Francine Davis at Adventure are very strong supporters of Community Hospice. Back in 2020, we talked with them and came up with the idea of doing a motorcycle giveaway. We got it started, got the tickets out there, and literally less than two weeks into it, the pandemic started and everything came to a halt. We hated to cancel it but the best thing to do was wait until things returned to something like normal. So we are very happy to work with them to do this now. It's a lot of fun and I think it's a pretty exciting prize."
Community Hospice is hoping to reach their goal of selling 2,500 raffle tickets before sales of the tickets end Aug. 12, raising $50,000 for patient care. "As a nonprofit, We never turn anyone away," said Sayre. "We care for patients without insurance, and cover some expenses not covered by insurance or Medicare or Medicaid."
"Our Community Hospice really is one of the best to be found anywhere," Sayre said. "That is because of the high level of quality care we are able to offer and the people we have. We serve patients in 10 counties now, and many people are unaware that they can choose which Hospice they turn to. We are a nonprofit, but many hospice care organizations operate on a for profit basis. We know for a fact that people want to end their lives in their own homes, or in the environment they're used to. We go to them and care for them in surroundings they know and where they can be with their families."
"We like to be supportive and engaged in our community," said Gray. "We support many local charities and nonprofit organizations and this is an excellent way to support Community Hospice."
The dealership has donated the bike for the raffle fundraiser, and eager bikers can see the prize winning bike by visiting the dealership on Rt. 39 between Dover and New Philadelphia. The Iron 883 carries a fuel injected engine and 59.6 inch wheelbase.
Tickets are available from any Community Hospice volunteer or at the hospice care center at 716 Commercial Ave. in New Philadelphia, or online at myhospice.org.
The first runner up will receive a $500 Adventure Harley Davidson gift card, while the second runner up with get a $250 gift card to the store. Prize drawings will be held Saturday, Aug. 13 at the dealership at 1465 state Route 39 NW, Dover. Tickets are not available at Adventure Harley-Davidson.