Rotary health screenings helped save many lives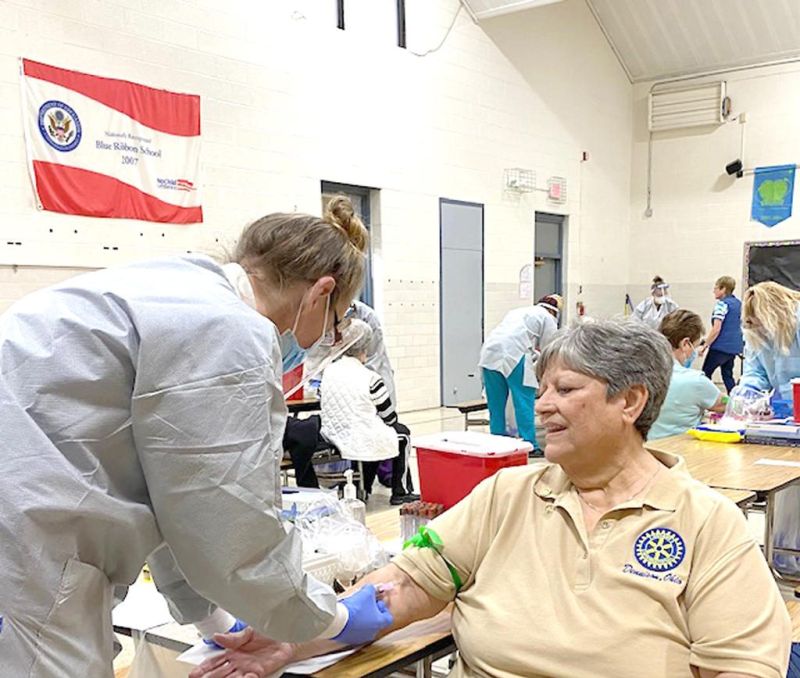 The Dennison Rotary Health Up will be Saturday, Oct. 8 and Saturday, Oct. 15 at Eastport Elementary School in Uhrichsville. The two-day blood screening event is in its 30th year and provides health screening for the community at large with no other requirements to participate.
The basic $50 screening covers diabetes, cholesterol and triglycerides, liver function, calcium, phosphorous, kidney function, gout, iron deficiency, complete blood count for anemia and infection, thyroid function, and other possible problems. A total of 50 tests are performed at the basic level.
"The Dennison Rotary Club was the first to do this," Bob Michels of Uhrichsville said. "It was 1992, and I was coming in as president of the club, and we began it then. There are other clubs who offer screenings now, but we offer more tests and more complete testing. We keep adding more to what is available."
Over the years as thousands of people participated in the blood screening event, it grew more and more successful in getting people in to be tested.
"Right before the pandemic, we were seeing 1,100-1,200 people over the two testing days," Michels said. "We do two each year, and in the spring we saw about 800, so it's coming back up."
All those screenings have saved many lives while changing others for the better. "Many, many times we learned of serious illnesses which were caught early. People didn't know there were any problems. Even if they get results with nothing serious, many people use the information they get to make positive changes in their health and their lives," Michels said.
"Thank God I did it," said Rick Bloom, who was saved by getting the test 10 years ago. "It caught my cancer real early. I still get checked every six months, and everything is as it should be now. I tell everyone to get tested. It's a simple blood test, and it's the best thing I ever did."
Michels said the process of getting a blood screening is simple. "Members greet you and note your appointment and get you registered. You're then shown to the blood drawing area. Once that's completed, you get results mailed to you within a couple of weeks."
The Dennison Rotary Club, which numbers 26 members, carries out large projects in the community every year.
"This is the largest fundraiser we do," Michels said, "and it's one of our many projects. The Parade of Flags is a subscription service where we take on putting out flags for flag holidays throughout the year. We purchased banners honoring veterans downtown. As part of the Dennison Railroad Festival, we host a car show and photography show.
"We purchased the annex for the Uhrichsville Library and bought a home, which we donated to Habitat for Humanity. It was a historic duplex built for the railroad workers before there were any people even living here. We restored the exterior, and a family working with Habitat for Humanity did the inside."
Optional blood testing also is available each of the days of the Health Up including screening for prostate cancer, blood sugar levels, colorectal cancers and other illnesses. Costs range from $15-$125.
Screening is by scheduled appointment. To register, call 740-229-7575 on Sept. 21 from 9 a.m. to noon. You also may register online anytime at www.dennisonrotary.com/health-checkup.
Eastport Avenue Elementary is at 1200 Eastport Ave. in Uhrichsville.