West Holmes boys battle until end in OT loss to River View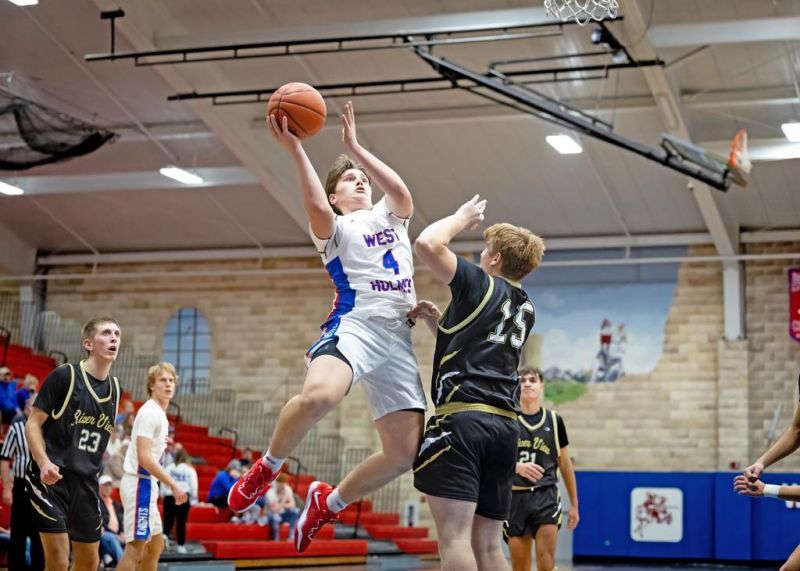 With a minute left in regulation, things were looking bleak for the West Holmes boys basketball team against River View.
The Knights trailed by seven points and had been struggling to score over the past few minutes of game action.
Rather than go through the motions during the final 60 seconds of the game, West Holmes kept battling and eventually sent the game to overtime when Collier Cline drilled a deep 3-pointer as the clock hit zeroes.
The Black Bears regained their composure in overtime, though, and pulled out an 80-77 victory in the season opener for both teams on Nov. 29 at West Holmes High School.
"Our guys kept believing," first-year Knights coach Seth Martin said. "We talk about togetherness and playing for each other. The guys, they do that. They never give up. That's something that we always try to stress in practice."
Cline's heroics would have never happened without a little help from River View, which missed four of its last five free throw attempts in the final minute.
A 3-pointer by WH's Zander Shultz made the score 68-64 with 40 seconds remaining, and after the Black Bears were fouled and missed both free throws, one of their players accidentally tipped the ball back into the net on West Holmes' next possession to make it a 2-point game.
Preston Yoder then made one of two at the free-throw line to extend River View's lead back to three points, setting the stage for Collier's game-tying shot, which didn't come without some extra dramatics.
After a missed 3-point attempt, Knights freshman Bean Martin saved the ball from going out of bounds and passed it back to the middle of the key before it eventually found its way into the hands of Cline, who made the most of his open look from atop the arc.
Despite seeing his team's seven-point lead evaporate into dust, Black Bears coach Ben Belden wasn't worried about his team's mindset heading into overtime.
"We played in a game last year where it was a very similar situation," he said. "We were up three at the end and gave up a bucket like that, and our resolve wasn't very good after that. This year I told the guys, 'We were in the lead with 31 minutes and 58 seconds (off the clock). We can go get the lead in four minutes.' And that's exactly what they did.
"They showed a lot of composure, and that really shows the program is going in the right direction. I was really proud of them and how they were resilient there."
River View leaned on its two stars to close out the game in overtime. Seniors Owen Emig and Brody Border combined to make all eight of their free throw attempts over the final two minutes of game action to help seal the win.
West Holmes, meanwhile, struggled from the floor in the extra period, hitting just 3 of 10 shots.
Emig and Border combined to average 42 points last season, and they were as advertised against the Knights. Emig finished with a game-high 33 points, including 25 in the second half and overtime, while Border scored 24. No other Black Bear reached double figures.
"(River View) has two great players," Martin said. "I'm very familiar with the (Muskingum Valley League), and those two guards they have, Border and Emig, are probably the two top guards in the MVL. They're both going to go play at the next level. I thought for the most part we did a good job on them. We had a couple of defensive lapses, and them being good players took advantage of it. That's something we can learn from."
West Holmes had a clear advantage on the boards against River View and used its size down low to create easy looks at the basket. Mason Wolfe scored a game-high 20 points to lead the Knights while Kyle Maltarich chipped in 15.
Shultz was a nice complement in the backcourt, adding 19 points. Cline chipped in seven points, Nate Fair six and Zevin Proper five to round out WH's top scorers.
"With Mason Wolfe, we tell him, 'Keep working on when you get to (the basket) being ready to score,'" coach Martin said. "I thought Kyle Maltarich did a heck of a job tonight being all over the floor. We asked him to guard their best player (Emig), and he did that. He guarded him the whole game full court, and we also asked him to do a lot for us on offense. Same with Zander Shultz. We asked him to guard (Border) full court and also asked him to be our point guard and score for us. Those two are probably dead-dog tired and need an ice bath, but I'm proud of the way they did. Nate Fair did some nice stuff inside for us, and Collier Cline came in and did some nice things.
"I thought everybody who came in for us tonight did some nice things."
West Holmes and River View were tied 16-16 at the end of the first quarter and 31-31 at halftime. The Black Bears led 51-50 entering the fourth quarter.
Martin saw plenty of things his players can build on from their first game.
"We weren't totally sharp in our offense and didn't expect to be," he said. "We had lapses on defense, but we haven't even put in all of our defensive sets, and we really haven't put in any of our defensive traps or anything like that. Offensively, we've put in a very limited amount of sets and everything. We have a lot more to put in.
"Our goal is to get better and better each and every day and each and every week, and by the time mid-December hits going into January, we want to be a dangerous basketball team, and by the time mid-February hits going into tournament time, we want to be a team that nobody wants to play."