Wayne mental-health providers support youth during pandemic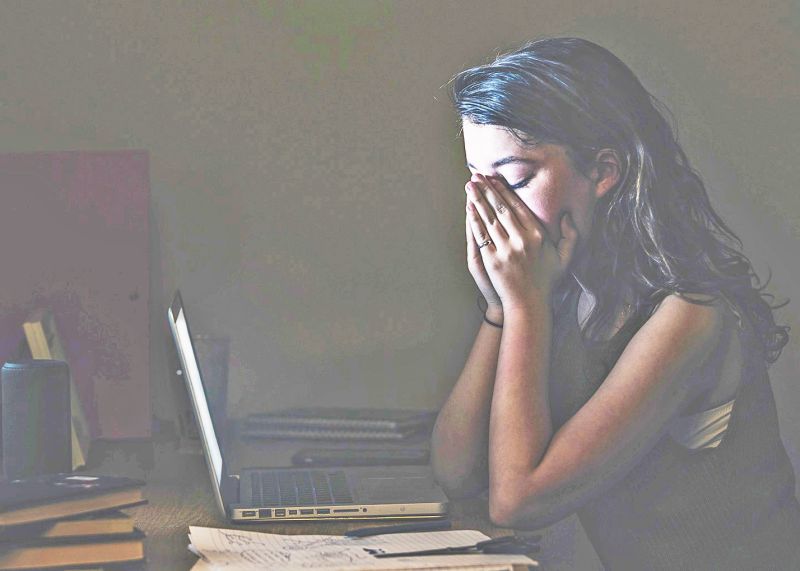 According to the U.S. Department of Health and Human Services, adolescent mental-health habits, like having the ability to cope, being resilient and using good judgment, help to shape positive mental health in adulthood.
Mood swings are frequent during the teen years, but a portion of adolescents will experience a more serious mental-health disorder such as depression or anxiety. Adults need to recognize mental-health warning signs and be willing to provide support.
Add a world-wide pandemic to the issues teens currently face, and the stage is set for the possibility of stress and other anxiety-related problems to surface.
"There are some studies out about what is going on with kids right now during the outbreak," said J. Greg Morrison, a prevention and service coordinator with Anazao. "We are providing services about the kinds of mental-health issues that are normally needed, but we are also paying attention to COVID-19 risks and making sure they have the protection they need to feel safe."
According to the Centers for Disease Control and Prevention, the actions that are in place, such as social distancing and isolation, to help stop the spread of the coronavirus also add a layer of stress and loneliness. The CDC also said while people of any age and background can get severely ill from the coronavirus, most people have a mild illness and are able to recover at home.
While it is natural to worry and be concerned for friends or family members, some young people may need help managing their stress, and the CDC offers ways to help:
—Learn about COVID-19. Knowing the facts and stopping the spread of rumors about COVID-19 can help you feel more in control of what is happening.
—Help stop the spread of COVID-19 by washing your hands often with soap and water, covering coughs and sneezes, and avoiding close contact with other people — even your friends. COVID-19 may be spread by people who do not have symptoms. These actions will keep you from getting sick and spreading the virus to other people you care about.
—Wear masks when you leave your home to help slow the spread of COVID-19. People who should not wear a mask are children under age 2 and anyone who has trouble breathing or is unconscious, incapacitated or otherwise unable to remove the mask without assistance.
—You can be social, but do it from a distance such as reaching out to friends by phone, text, video chat and social media.
—Find ways to relax. Take deep breaths, stretch or meditate. Try to do activities you enjoy, like exercising, gaming, reading or other hobbies.
—Keep to a schedule. Plan times for doing schoolwork, relaxing and connecting with friends.
—Avoid alcohol and drugs. These substances can weaken your body's ability to fight infections and increase the risk of certain complications associated with COVID-19.
—Talk with someone you trust about your thoughts and feelings.
"In about a year there will be studies released that will let us see what is going on with kids right now," Morrison said. "Everyone is doing their best to attend to the needs of kids and get them the services they require."
While the need for mental-health services may be on the rise, the good news is those services are easily attained through the use of telehealth and other technological platforms.
"In addition to in-person support, we can address a child's concerns using teleconferencing software or other methods to help them manage their stress," Morrison said.
Adults should monitor changes in their child's behavior.
"Keep a journal if necessary," Morrison said. "Humans are not equipped to handle constant anxiety. Fortunately, there are many tools available to help teens deal with stress, and we are here to provide that support."
The COVID-19 pandemic will present many challenges to mental-health partners that provide support to area schools this year.
"In the spring our focus was making contact and connecting at- and in-risk students with telehealth services as quickly as possible while each school was following a similar plan," Anazao executive director Mark Woods said. "Now we are working with partner schools to address student needs in-person at school, at alternate locations, and at home and using telehealth when needed."
There are many resources available locally for mental-health needs. A total of $673,564 was allocated to area mental-health agencies under Title XX by the Wayne County Department of Job and Family Services. Those agencies and the number of students they served include Anazao, 121 students in five school districts; Encompass, 42 students in three school districts; Catholic Charities, 62 students in two school districts; Counseling Center, 55 students in three school districts; and Village Network, 205 students in five school districts.
According to Woods, another setback to students is they will continue to have less contact with a supportive adult than they have traditionally experienced at summer camps and various after-school programs.
"Caring adults like coaches, teachers, principals and guidance counselors are also the primary referral source. They raise flags when a student is struggling so that we or our partners can get them needed help," Woods said. "Everyone needs to be watching more closely and listening more clearly to the kids around them. Help is available as much as ever, but there are a few more barriers than normal this year."
In the event of a crisis, call the Mental Health Recovery Board of Wayne and Holmes Counties Crisis Hotline at 330-264-9029.
Dan Starcher is a public communications specialist for the Wayne County government.